Email this CRN article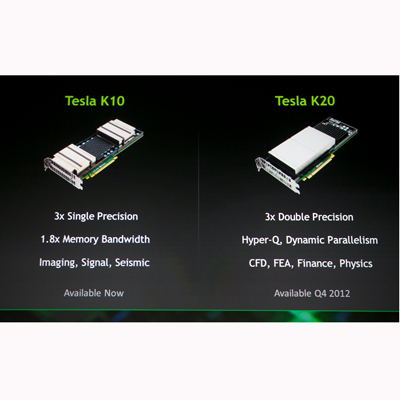 The Kepler Family Is Growing
Nvidia kicked off GTC 2012 with the unveiling of its Tesla K10 GPU based on its next-gen Kepler architecture. The K10, according to Nvidia, is three times more energy-efficient and packs twice the processing punch compared to its Fermi-based predecessors.
Kepler also allows for two Tesla K10 GPUs to be used on a single compute accelerator board. The results, Nvidia said, is an aggregate performance of 4.58 teraflops and 320-GBps memory bandwidth, making the Tesla K10 accelerating platform the highest throughput GPU accelerator on the market today.
The K10 news was coupled with that of the new Tesla K20 GPU, which won't officially launch until the fourth quarter.
Both GPUs are aimed at the high-performance computing markets, with the K10 specifically optimized for the oil and gas and defense industries.
Email this CRN article