Email this CRN article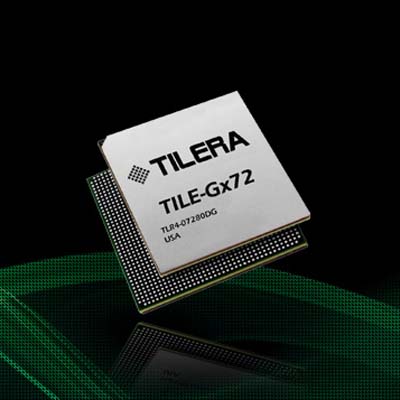 Chips: Tilera TILE-Gx72
San Jose, Calif.-based Tilera in February unveiled its TILE-Gx72processor, which features 72 power-efficient cores and four high-performance DDR3 memory controllers targeting future generations of network, multimedia and cloud infrastructures.
The TILE-Gx72 is targeted at compute and I/O-intensive applications such as Layer 2 to 7 networking and firewall appliances, SDN infrastructures, network monitoring and analytics, Layer 7 Deep Packet Inspection (DPI), compute offload network interface cards, intrusion prevention and detection, big data transaction processing, streaming video, and high-definition video conferencing.
Each of the 72 64-bit cores in the TILE-Gx72 integrates L1 and L2 cache and features the company's iMesh two-dimensional multi-tier interconnect for over 110 terabits per second of bandwidth interconnecting cores, caches, I/O devices and DDR3 memory controllers. The processors also support eight 10Gbps Ethernet ports, configurable as 32 1Gbps ports, as well as six PCIe ports.

Email this CRN article