Email this CRN article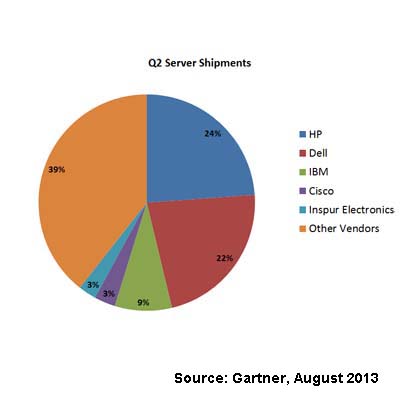 Total Server Shipments Up 4 Percent
The world purchased 2.5 million servers in the second quarter of 2013, up 4 percent over the 2.4 million purchased in the same period of 2012.
Hewlett-Packard continues to be the leading shipper despite a 13.6 percent drop in shipments to about 587,000 units. That still gives it some distance over second-place Dell, whose server shipments grew 1.7 percent, IDC said. IBM kept its third-place ranking, despite an 8 percent drop in shipments.
Two companies in the top five enjoyed strong growth in the quarter. Cisco with its UCS servers saw shipments grow 58.5 percent to 77,729 servers, while China-based Inspur Electronic came from almost nowhere to pop into the top five by shipping 65,350 servers, more than double what it shipped last year.
The "other" vendors also did well as a group, with shipments up 14.4 percent over last year to over 969,000 units.
Email this CRN article