Email this CRN article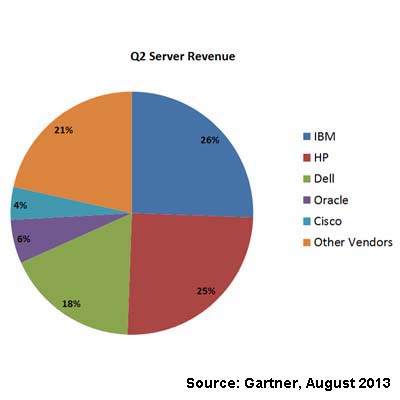 Total Server Revenue Down 3.8 Percent
On the revenue side, IBM was the leader with server sales of $3.2 billion, which was down 9.7 percent. Despite that fall, IBM took the No. 1 spot from HP, which saw its server revenue drop 17.5 percent to $3.1 billion.
Dell did well, with server revenue of $2.2 billion, up 10.7 percent over last year.
Oracle, which has de-emphasized its server business since its acquisition of Sun Microsystems, saw revenue fall 7.2 percent to $717 million. Cisco, on the other hand, continues its fast rise. Its revenue growth of 43.3 percent to $539 million could take it into the fourth place past Oracle in the next few quarters.
The "other" vendors also did well, with sales of $2.7 billion, up 7.9 percent over last year.
Email this CRN article