Email this CRN article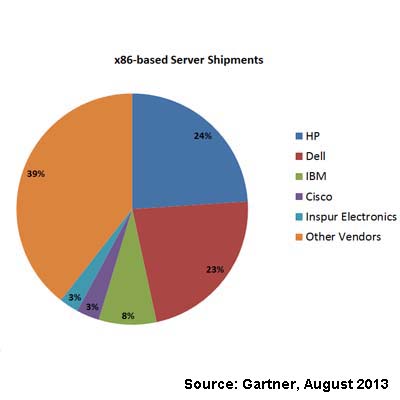 x86-Based Server Shipments Up 4.5 Percent
The industry as a whole shipped 2.4 million shipments in the second quarter of 2013, up 4.5 percent over the same period last year.
HP still remains the leading x86 server vendor in terms of shipments despite a huge 13.5 percent drop to just over 582,000 units. No. 2 vendor Dell, on the other hand, enjoyed a 1.7 percent rise in shipments to 551,000 units. A small increase, true, but it puts Dell within striking distance of the lead.
IBM's x86 server shipments fell 8 percent to just over 196,000 units, but Cisco's increased 58.5 percent to over77,000 units, giving Cisco an opportunity to break into the top three within a few quarters. Inspur Electronic's shipments rose by over 200 percent to over 65,000 units, helping it break into the top five for the first time. Even if Inspur's trajectory slows, it could easily overtake Cisco and IBM for third place in the next few years.
Email this CRN article