Email this CRN article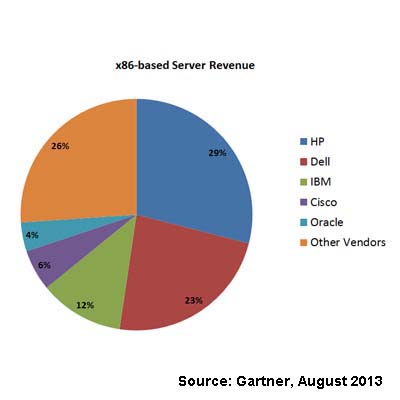 x86-Based Server Revenue Up 2.1 Percent
Total x86-based server revenue for the second quarter rose 2.1 percent over last year to $9.4 billion, according to Gartner.
HP retained its traditional lead with revenue of $2.7 billion. However, that figure was down 14.9 percent over last year. That drop, combined with Dell's 10.7 percent rise in x86 server revenue to $2.2 billion, means that Dell has a chance to be the No. 1 x86 server vendor in the not-too-distant future.
IBM remains in its comfortable No. 3 spot with x86 server revenue of $1.1 billion despite a 10.8 percent drop over last year. Cisco saw its second-quarter 2013 x86 server revenue rise 43.3 percent to $539 million. Oracle, which has not been keen on focusing on the x86 server market, nevertheless saw a 20-percent increase in revenue to $379 million.
The "other" server vendors enjoyed a 17.5 percent rise in revenue to nearly $2.5 billion.
Email this CRN article