Email this CRN article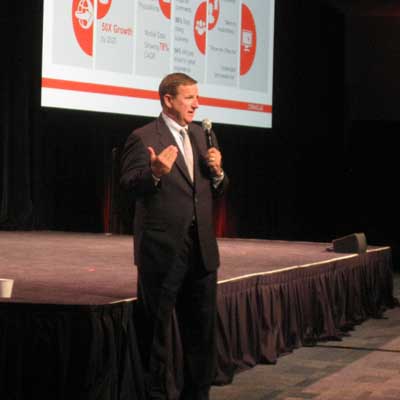 Mark Hurd: Oracle All-In On Big Data
Oracle President Mark Hurd, speaking to partners on Sunday and customers on Monday, said that big data will be one of the key trends going forward.
Hurd said that the 9 billion devices connected to the Internet will grow to 50 billion by 2020. He also said the average legacy application today is about 19 years old, built pre-Internet and pre-mobile phone. "[We] built this pre-everything we do today," he said.
On the average, business customers are seeing their data grow 40 percent per year, Hurd said. And, on the average, they're spending $7,500 to $9,000 per terabyte to manage that data. For a bank with 1,000 TBs of data, that means an annual cost of $700 million to handle that management.
Hurd said there has to be a better way to manage that data. "At the core, that's what we're focused on," he said. "The efficiency message. The innovation message."

Email this CRN article