Email this CRN article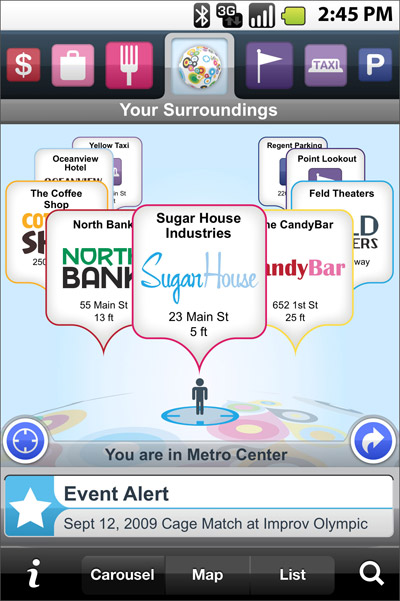 Along with the customization and personalization options and integration with Google software and services, T-Mobile will launch new applications for myTouch 3G, including the new Sherpa app. Created by Geodelic, Sherpa (shown here) features GENIE (Geodelic ENgine for Interest Evaluation), a learning engine that automatically customizes itself to the user's preferences. Through behavior and user feedback, the application learns a person's likes and dislikes, prioritizing recommended retailers, restaurants and attractions. Seamlessly blending behavior recognition, a recommendation engine and location-relevant information, this combination of learning is exclusive to Sherpa and unlike any experience currently on the market.
"Now more than ever, customers are regularly accessing mobile applications that enhance their personal interests. Through the power of location and social discovery, T-Mobile is working closely with Google and developers like Geodelic to create experiences that are as unique as each person using it," said Cole Brodman, chief technology and innovation officer, T-Mobile USA. "So wherever you are and whatever your passion -- music, marathons, movies and more -- myTouch is the phone for you."
Email this CRN article