Email this CRN article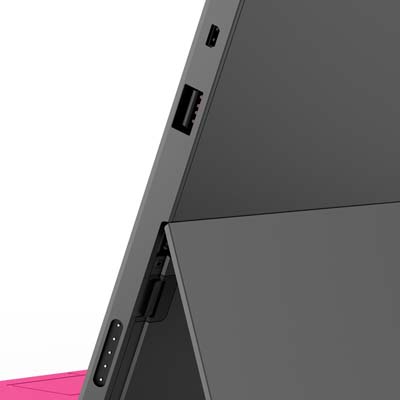 Inputs And Outputs
Criticized for their lack of a hardware keyboard, Microsoft provides a simple solution with its tablets: Touch Cover and Type Cover. "The vision is to let you produce content when you want it, how you want it, as fast as you've always done it," said Panos Panay, general manager of Surface.
The magnetically attached keyboard is easily removed, doubles as a screen cover and folds under the Surface and automatically disables when not in use. When connected, the Metro screen's background color changes to match the keyboard. Both keyboards include a touchpad with multi-touch gestures and dedicated function keys. Keyboards this tightly integrated with iPad cost $100+.
Surface also delivers USB, Micro HD video and microSD slots. It also has a magnetic power connector that's similar to the MacBooks' patented MagSafe. The iPad's only connector is the proprietary 30-pin dock connector and headphone jack.
ADVANTAGE: Surface
Email this CRN article