Email this CRN article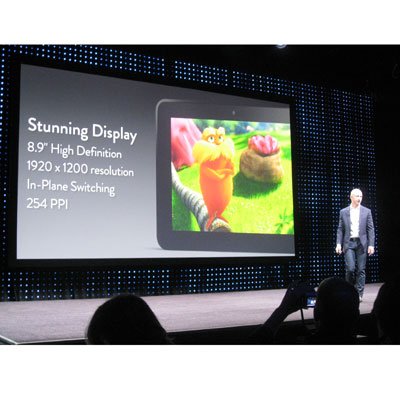 Big Reception For The Kindle Fire HD Tablet
In an event that was filled with spontaneous eruptions of applause, the loudest applause was reserved for when Bezos unveiled the Kindle Fire HD Wi-Fi and Kindle Fire HD 4G LTE tablet PCs.
The Kindle Fire HD tablet, commonly referred to prior to the launch as the Kindle Fire 2, features a high-definition 1,900-by-1,200 display, a wide viewing angle and a 25-percent reduction in glare over previous models, in which the glare reduction ability stems from the lamination of the touch panel directly on the display to eliminate the air gap. It includes an HDMI port for connecting to larger displays.
The Kindle Fire HD also features the Texas OMAP4470 processor with 50 percent more IOPS and 40 percent more bandwidth than the Tegra 3 processor commonly used in other tablet PCs. It also includes both 2.4-GHz and 5.0-GHz Wi-Fi with dual antennas.

Email this CRN article