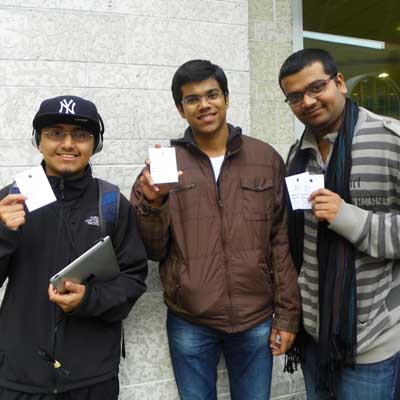 A Safe Bet
This savvy group of shoppers didn't want to run the risk of waiting in line for hours, only to get inside the store and realize that coveted stock of smartphones had sold out. Instead, they got to Bolyston Street bright and early -- 1 a.m., to be exact -- and were handed cards by Apple employees that guaranteed them a phone. Each card specified the version they had claimed -- 16GB, 32GB, or 64GB -- along with the color.
Miguel Cua (pictured far left) said he had "just hopped on the Apple bandwagon," and that the iPhone 5 would be his first Apple smartphone. He decided to give it a go after recently buying an iPad, and loving the user experience.
Pratik Pai (middle) and Kaushal Shah also started waiting in line at 1 a.m. to make sure they got the exact iPhone 5 model and color they wanted.