Email this CRN article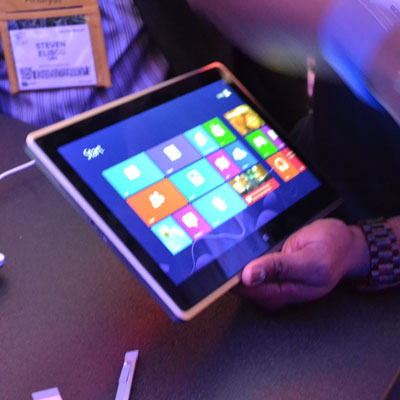 Vizio AMD-Powered Tablet
Most Windows 8 tablets on the market today run either and Intel or ARM-based processor. But, Vizio has infused some variety into the mix by introducing a new tablet fueled by AMD.
Simply called the Vizio 11.6-inch Tablet, the new device runs AMD's tablet-focused Z-60 APU, which boats a dual-core architecture and runs up to 1GHz. Vizio's new tablet also packs 2 GB of RAM, micro-USB ports and a 2-megapixel front-facing camera.
In addition to running an AMD processor, the Vizio 11.6-inch Tablet is unique because of its software. The device runs a "Signature" version of Windows 8 that's been stripped entirely of third-party software and other pre-loaded apps, which Vizio claims make its "Junkware"-free.
Email this CRN article