Email this CRN article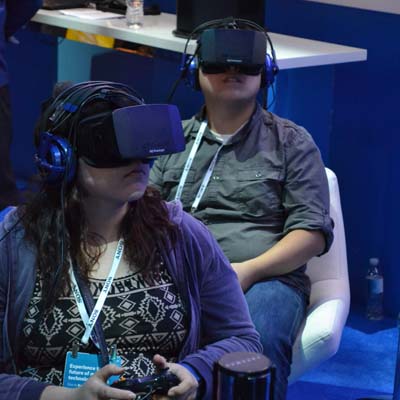 Oculus Rift
At first glance, Oculus Rift looks like a funky pair of ski goggles. In reality, it's a next-generation virtual reality headset that, according to its maker Oculus VR, is "revolutionizing" the way people experience video games.
Designed to make players feel as if they are actually in a game, rather than just playing it, Oculus Rift uses custom tracking technology to provide 360-degree head tracking, allowing users to look and move around a virtual world just as they would in real life. According to Oculus VR, literally every movement of a player's head, no matter how subtle, is tracked in real time and re-created in the game.
At CES, Oculus VR was showcasing "Crystal Cove," the latest prototype for its goggles that replicates not just the motion of players' heads, but their entire upper bodies, meaning it can mimic the experience of leaning back or looking around a corner.

Email this CRN article