Email this CRN article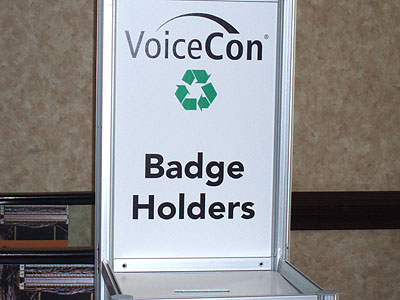 Maybe it's because Monday was St. Patrick's Day. Maybe green is just a nice color. Or maybe, just maybe, one of the main themes of VoiceCon Orlando 2008 focuses on what role new and emerging technologies play in the environment. Regardless the reason, there sure was a heck of a lot of green to be seen on the VoiceCon show floor as the event kicked off its 18th year Monday.
Another reason for the green could have a little bit to do with Nobel Laureate and former vice president Al Gore coming to VoiceCon via Cisco TelePresence to discuss how technologies can help in the fight against climate change, a topic Gore passionately chronicled in his global warming documentary "An Inconvenient Truth."
Either way, everywhere you turned something green was happening. The show itself even got in on it, offering recycling bins for discarded badges and lanyards (pictured).
Here are some of our favorite green scenes from the first day of VoiceCon Orlando 2008.
Email this CRN article