Email this CRN article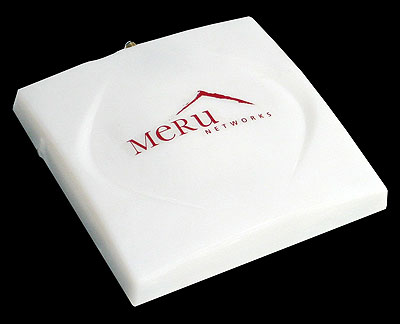 One of the most common places for thieves and hackers to try to crack the defenses of a wireless network is, believe it or not, the parking lot outside. They troll around looking for WLAN signals that are strong enough to leak out beyond the building perimeter, potentially providing network access to folks that just shouldn't have it. Enter Sunnyvale, Calif.-based Meru Networks and its new RF Barrier technology, which promises to plug the holes and prevent RF signal leaks.
To deploy the technology, solution providers install a Meru access point along the inside perimeter of a building and an advanced directional antenna (pictured) outside. Meru's RF Barrier technology inspects traffic and uses the external antenna to block outside traffic at the RF layer, without impacting signals within the building, the company says. RF Barrier will be available in September. A start kit that includes four antennas, four access points, cables and software licenses will be priced at $3,595.
Email this CRN article