Email this CRN article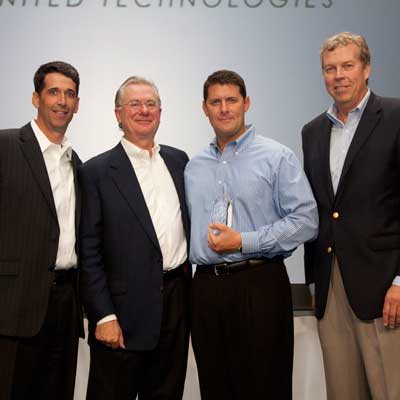 Its Channel Has Big Players
Many of ShoreTel's bread-and-butter partners are regional VARs focused on SMB customers. But the company has some key partners in major national solution providers, too -- among them Springfield, Pa.-based Transcend United, which merged with Liquidspoke earlier this year to become one of ShoreTel's biggest national channel partners. "The message loud and clear from Peter has been quality, not quantity. You don't need dealer saturation. When you get quality players, that helps us because we all start to compete in bigger deals," said RIchard Tarity, former LiquidSpoke CEO and now executive vice president of sales at Transcend.
Transcend United was later in the show named ShoreTel's Partner of the Year for the fifth straight year. The solution provider powerhouse was also recognized as a Major Accounts Partner of the Year for 2011, as well as received a ShoreTel 2011 Circle of Excellence Award.
Left to right: ShoreTel's Sam Koury, Don Girskis; Tarity; and ShoreTel's Peter Blackmore.
Email this CRN article