Email this CRN article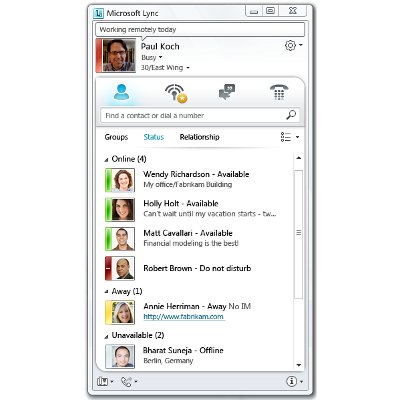 Not Enough Ado About Lync
Avaya talked a lot throughout the conference about how to attack Cisco and ShoreTel, which Avaya made clear it considers its two most immediate competitive threats. Partners, however, feel that Avaya should spend at least as much time on the UC threat posed by Microsoft Lync (pictured), and better direct Avaya partners on how to sell to customers who want or already have Lync implementations.
"I struggle with this with Avaya," said John DeLozier, senior vice president of sales and marketing for Arrow S3, the Irving, Texas-based solution provider arm of distributor Arrow. "You want us in the Lync discussion. If we're not in that discussion, [customers will] just pull the whole thing out and go with Lync. Avaya works with Lync."
"If a customer says they're going Lync, we have to say yes," said Dan Ferguson, president and CEO of AdvanTel, a San Jose, Calif.-based solution provider. "We can sell Avaya for voice and Lync for presence and chat, and inject Radvision for video. If we say 'no Lync,' they'll just go work with a Microsoft partner and we lose them."

Email this CRN article