Email this CRN article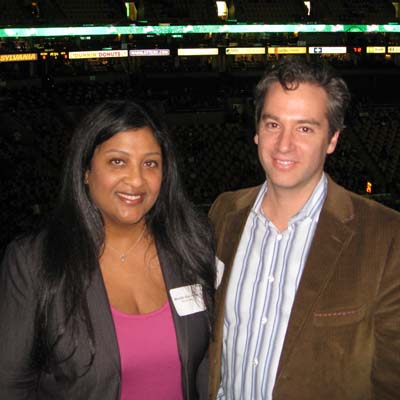 'No Matter Who Wins, ShoreTel Wins'
The Celtics aren't the only NBA team ShoreTel touts as a customer. In addition to the Los Angeles Lakers and Washington Wizards, the Brooklyn Nets -- the Celtics' opponent for the evening -- also rely on ShoreTel for their voice and UC needs.
The Nets' Senior Director of Information Technology Mireille Verna, pictured here with Dan Hoffman, president of ShoreTel's cloud division, said the Nets use ShoreTel's cloud-based UC system -- also known as ShoreTel Sky -- and that the reliability has been rock-solid. The most recent testament to this, she said, was how well ShoreTel's solutions withstood the wrath of Hurricane Sandy.
"[The Brooklyn office] was intact," Verna said. "I attribute that to planning, to the stability of the system. ... We were pleasantly surprised it didn't go down. One less thing to worry about."
Email this CRN article