Email this CRN article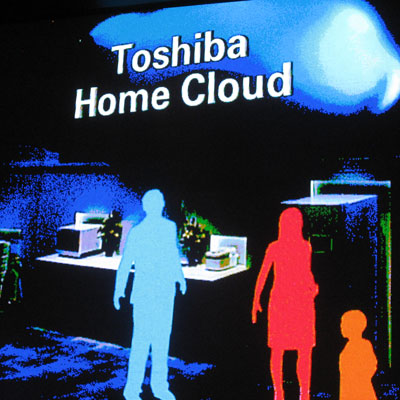 Toshiba Home Cloud
Toshiba placed a major emphasis on home automation at this year's CES, using the show floor to set up a mock living room and kitchen equipped with its Home Cloud solution.
By connecting almost any in-home appliance to the cloud, Toshiba's Home Cloud solution affords users maximum control over their homes and energy costs, along with a simpler way to stay in touch with friends and family. A TV, for instance, that's connected to Toshiba's Home Cloud can be used to send show recommendations or comments to other viewers, regardless of their location. Toshiba also demonstrated a "smart" refrigerator with a built-in tablet that can be used to chat with friends and families while making dinner.
A number of other cool features, such as the lights automatically dimming with the start of a movie, were also showcased by Toshiba.
Email this CRN article