Email this CRN article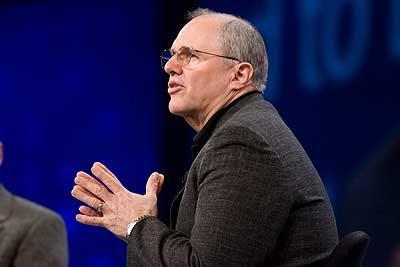 RSA 2008 just didn't have the same buzz it has had in previous years, which isn't probably surprising in light of the looming recession and IT spending slowdown. And while all the big guns of the industry were in attendance, all of them face varying degrees of uncertainty with regard to how their security strategies will play out in the future.
In this slide show, ChannelWeb asks the burning questions that have been swirling around 11 of the channel's most recognizable security vendors.
Is The IT Industry Ready To Buy Security From Microsoft?
It's the question for solution providers to ponder now that Microsoft has rolled out the first public beta of the next version of its Forefront security platform, code-named 'Stirling.'
Craig Mundie, Microsoft's chief research and strategy officer (pictured left giving a keynote speech at RSA) revealed that the final version is due sometime in the first half of next year. Microsoft also stepped up efforts to position its consumer focused Windows Live OneCare security suite as a viable option for small businesses.
Microsoft's security story is finally beginning to come together, and those who've laughingly discounted the software giant's commitment to building a security platform to compete with established vendors would be wise to starting paying attention to the software giant's moves in this space.
Email this CRN article