Email this CRN article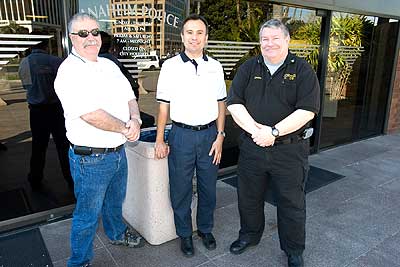 The Anaheim Police Department has one of the most advanced data storage and image management systems in the country today thanks to the help of Linear Systems, a Rancho Cucamonga, Calif.-based systems integrator of digital image management solutions.
Often called the "Disney Police" because of its proximity to Disneyland and California Disney, the APD is no Mickey Mouse operation. Instead, the department can quickly process, store, and call up digital images related to local crime scenes. Those images are stored in an infrastructure that includes an on-site capacity of 20 Tbytes, which is five times the storage capacity of the rest of the city of Anaheim, with another 20 Tbytes of mirrored data sitting offsite for disaster recovery purposes. It is also in the process of adding 70 Tbytes of BluRay disk for archiving.
In January, Everything Channel had the opportunity to go behind the scenes with the Anaheim Police Department and Linear Systems. Guiding the tour was, from left to right, Chris Parsons, president of Linear Systems; Stephen Monteros, COO of Linear Systems; and James Conley, forensics services supervisor in the Investigations Division of the APD.
Linear Systems works with about 400 police agencies around the country. Its largest customer is the Las Vegas Metropolitan Police Department, which currently has two 100-Tbyte systems for storing 2 million original images, or about 8 million total images with copies.
Email this CRN article