Email this CRN article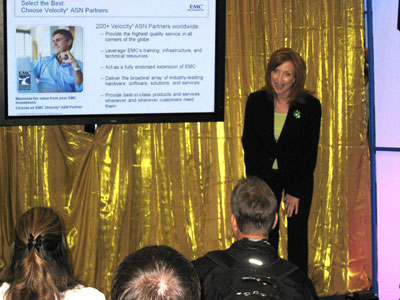 EMC World held sessions aimed specifically at teaching customers the benefits of working with its Velocity ASN program for solution providers.
Susan Mathein, a professional presenter working with Live Marketing, a Chicago-based provider of marketing services, was at the EMC Global Services booth telling customers the advantages of working with EMC's Velocity ASN members.
Among them was the fact that EMC's partners offer the same solutions that customers can source from EMC, and that they have the full support of the vendor.
After her presentation, Mathein asked the attendees questions about her presentation, and passed out prizes for the correct answers.
One of the harder questions was, What does ASN stand for?
(Here's a hint, fill in the blanks: __uthorized __ervices __etwork.)
Email this CRN article