Email this CRN article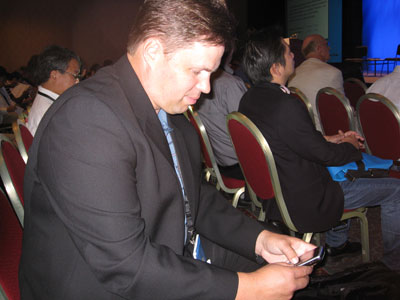 EMC used a big portion of its EMC World conference to discuss the importance of cloud computing, which is a way to dynamically combine and scale server, storage, networking and other resources inside and/or outside of a company's own traditional data center for such purposes as remote data storage or running Software-as-a-Service.
Keith Norbie, (left), director of the storage division of Nexus Information Systems, a Minnetonka, Minn.-based solution provider and EMC partner, called cloud computing a fantastic opportunity to liberate IT.
"No one raises a hand to say, 'I love this hardware,'" Norbie said. "Who raises their hand and says, 'I want to be glued to my desktop?' What clouds will deliver is greater availability and access to IT, and an always-on compute model."
Solution providers looking to build a cloud infrastructure can start with server and desktop virtualization, and then add other services. Nexus currently offers a suite of cloud-related services such as monitoring, backup, security and other emerging technologies, which lets it keep connected to customers.
"How is this 'cloud computing?'" Norbie said. "It gives us the ability to connect customers to Nexus with services that are always on and always protected."
Email this CRN article