Email this CRN article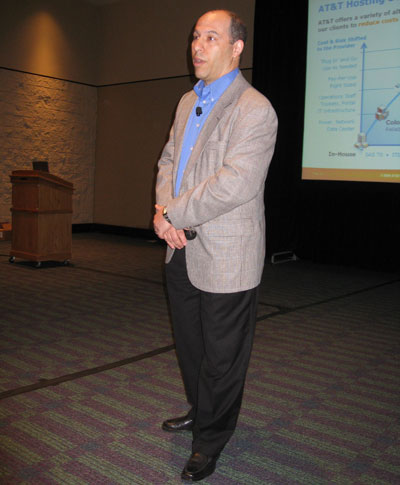 EMC used the conference to unveil its Atmos onLine cloud storage service and introduce AT&T and eBay as its first partners for services based on its Atmos technology.
EMC's Atmos onLine service is a highly scalable online storage infrastructure that makes it possible for a service provider to offer cloud-based storage that is scalable to Petabytes of capacity and can be stretched over multiple sites scattered around the world.
AT&T is using the technology behind Atmos to power its Synaptic Storage-as-a-Service, enterprise-class on-demand storage offering, said Steve Caniano (left), vice president of hosting and application services at AT&T.
Caniano said there is a real demand for RAID-level protection on the cloud, and AT&T is working with EMC to develop scalable storage and protection on a worldwide basis.

Synaptic Storage-as-a-Service already has launched two of AT&T's Internet data centers worldwide and will eventually go global, Caniano said.
EMC also unveiled its EMC Velocity Atmos Partner Program under which it is providing APIs to ISVs to create applications leveraging both its Atmos and its Atmos onLine offerings.
Email this CRN article