Email this CRN article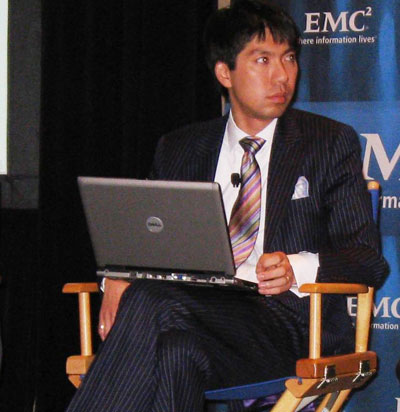 It takes more than an iridescent tie to make Benjamin Woo, vice president of enterprise storage system research at IDC, stand out on a panel of analysts.
Woo also happens to be a former solution provider. Prior to joining IDC last year, he was vice president of sales and marketing at ASI System Integration, a New York-based solution provider.
Woo said that technology such as EMC's Atmos onLine cloud storage provides APIs that allow solution providers to help customers share data based on their policies, and is especially applicable to multinational companies.
The early adoption of the Atmos technology by AT&T should help other solution providers find ways to help customers adopt data center-class online storage, Woo said.
"AT&T is a good partner in the U.S., Canada and overseas," Woo said. "Other solution providers will look at this and say, 'There may be something there for me.' Once they can help drive applications on a worldwide basis, they will see growth from their customers."
Email this CRN article