Email this CRN article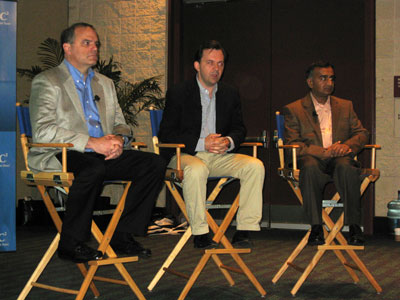 Getting into cloud computing requires a little help from your friends.
Chuck Hollis (left), EMC's vice president and CTO of global marketing, said that cloud computing is still in its early stages, and its definition is a moving target.
"My joke is, we should call it 'fog computing,'" Hollis said.
Even so, interest in public clouds like those built by Amazon and Google show there is a customer need, and EMC and its partners are responding with dynamic and scalable storage, information management, resource management and security, Hollis said.
"I'd like to go on record and say, this will be the dominant trend in IT," he said.
Ed Bugnion (center), Cisco CTO, said that virtualization, networking and scalability are the three pillars to cloud computing.
Cisco has invested heavily in the networking and scalability pillars with such technologies as virtual and physical networking switches for VMware environments and its Unified Computing System (UCS) architecture, which combines server, storage and networking into a single system.
Parag Patal, VMware's vice president of alliances, said that cloud computing requires multivendor interoperability in order to balance workloads between numerous external clouds and customers' internal IT infrastructures, which is why it is important for the industry to work together on the technology.
"There's enough standards and protocols in place for people to jump into [cloud computing]," Patal said. "I think the timing is right."
Email this CRN article