Email this CRN article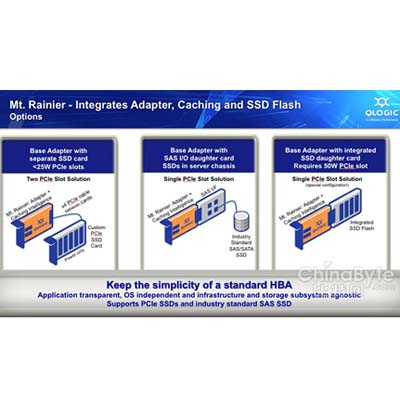 QLogic's New Mt. Rainier Tech Uses HBAs, Turns Flash Storage Into Shared Cache
QLogic in September previewed "Mt. Ranier," a new technology that puts high-speed SSD storage on a SAN host bus adapter (HBA) to allow multiple servers to share their flash-based cache.
Mt. Ranier will allow an application running in one server to grab data sitting in the flash storage cache of another server with nearly the same performance as if it were sitting in the same server as the application in order to increase storage performance. Mt. Ranier integrates a QLogic SAN adapter with the company's intelligent routing software and either a separate SSD flash storage card or a daughterboard that connects to SSDs inside the server. The caching software runs in the SAN adaptor, not in the server's operating system or in a hypervisor, so the hardware acts like a standard SAN HBA.
Mt. Ranier is expected to ship in production by the end of the first quarter of 2013.

Email this CRN article