Email this CRN article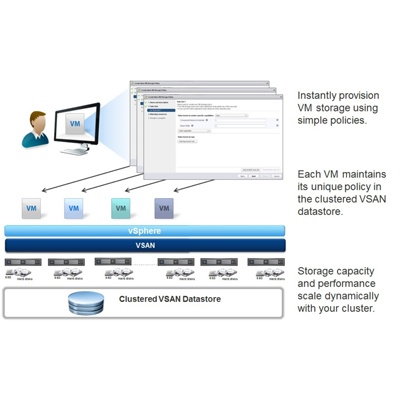 VMware: Expanding Software-Defined Storage With VMware VSAN
VMworld host VMware unveiled a new software-defined storage solution that ties to the company's VMware vSphere private cloud and virtualization platform.
Virtual SAN, or VSAN, is a key part of VMware's nascent software-defined data center strategy. VSAN redefines the hypervisor to let vSphere cluster the SSDs and hard drives from three to eight servers into a shared storage pool. Each server can support up to five disk groups consisting of an SSD and up to seven hard drives, providing a capacity of over a half-petabyte on a single VSAN cluster.
With VSAN, virtual machines are provisioned on the fly, each potentially with its own policies. The virtual machines can be provisioned against any storage in the pool, with storage dynamically scalable by the addition of nodes or capacity.

Email this CRN article