Email this CRN article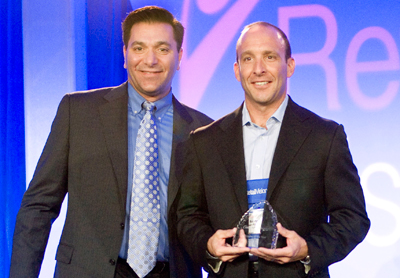 No other device maker can hold a candle to Nokia in the retail industry. The Finnish mobile device manufacturer boasts more than 350,000 points of sale globally and manufactures and sells more than an estimated 1.5 million phones per day. All the while Nokia dreams up new ways to excite and entice retailers, whether through its N-Gage gaming platform or its Ovi online services offering.
Recent statistics from Gartner show that in the first quarter of 2008 Nokia commanded over 45 percent of the global smartphone market, with sales up 25 percent year over year, dominating based on its variety of offerings which target different price points in the high-end and middle tier. For the second quarter of 2008 Nokia posted $19.8 billion (13.2 Euro) in sales, a 4 percent year-over-year increase.
Robert Pignataro, Nokia director of retail channel sales, accepted Nokia's award (pictured with Robert Demarzo, Everything Channel editorial director and senior vice president).
Email this CRN article