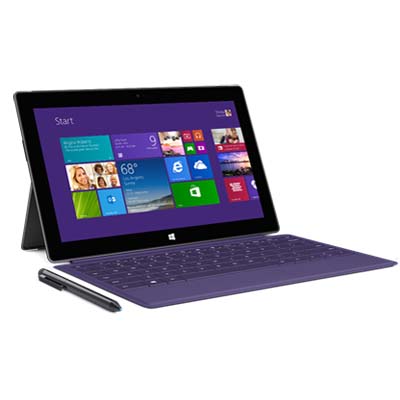 Microsoft's big tablet do-over begins Tuesday with the releases of Surface 2 and Surface Pro 2. Microsoft hopes its revamped tablet will fight back bad buzz generated by the first-gen Surface flop. But Microsoft faces big challenges right out of the gate. On Tuesday -- launch day for the Surface 2 tablets -- Apple will try to steal Microsoft's thunder and turn the tech world's attention to a tablet product announcement for new iPads.
Here are Microsoft's biggest challenges with the Surface 2 and Surface Pro 2.Microsoft came clean and admitted that it blew it with the original naming convention for Surface. Jack Cowett (pictured), Microsoft's Surface product manager, told the Australian publication ARN, "We think that there was some confusion in the market last year on the difference between Surface RT and Surface Pro ... We want to help make it easier for people, and these are two different products designed for two different people."
Is Surface 2 enough to distinguish itself from Surface Pro 2?
For OEMs, the challenge of distinguishing between second-gen Windows RT 8.1 tablets and Windows 8.1 tablets gets even harder. Microsoft is dropping RT, so how are OEMs going to distinguish Windows "RT" 8.1 tablets from their more capable Windows 8.1 tablets?
Old gripes die hard. Despite opening up the Surface reseller market in the U.S. to select partners, the majority of North American VARs are still locked out of the Surface reseller program. Microsoft has dropped big hints its hardline stance is softening. Earlier this month, CRN reported Microsoft will be expanding its reseller program on an invitation-only basis. There were also reports that Microsoft plans to open up its Australian Surface reseller program to include any VAR.
But until Microsoft officially opens up on its Surface reseller program, VARs aren't likely to quit bitterly complaining about Microsoft's big Surface cold shoulder. In the interim, system integrators are pushing alternatives to Surface, such as Android and Apple tablets, to their customers.
Some PC makers, who have been longtime Microsoft loyalists, are mad at having to compete alongside Microsoft selling hardware -- namely tablets. Microsoft can't feign ignorance either. In a SEC filing, Microsoft reported in a 2012 10-K : "In addition, our Surface devices will compete with products made by our OEM partners, which may affect their commitment to our platform."
Microsoft's disruptive tablet ambitions may be coming back to haunt it. Acer, Lenovo and Hewlett-Packard have recently been experimenting with alternate OSes for entry-level laptops. On Oct. 10, HP announced it teamed with Google to launch business Chromebooks. After dropping its Windows 8 RT device from its lineup, Lenovo confirmed it's working on a touch-friendly IdeaPad A10 Android laptop convertible.
The time is "now" for Microsoft to step up its go-to-market strategy with Surface, say experts. Microsoft is not ramping up to push Surface broadly through resellers, said Tirthankar Sen, senior analyst, partners and ecosystems with Forrester Research.
Tirthankar told CRN that Microsoft's original plan limiting the number of resellers was a good one. "It gave resellers little competition to sell to businesses and made it easier for Microsoft to get quick feedback on its partner program and tweak it."
But, Tirthankar said, this second time around Microsoft needs to open Surface Pro 2 to the larger market and include a much larger ecosystem of solution providers to create wrap-around integrated solutions and vertical-specific applications. "Microsoft needs to move fast," he said.
It's true that Microsoft knows the business of selling Xbox game systems and PC peripherals. But selling tablets is a high-wire act comparatively, say experts.
Forrester's Tirthankar said Microsoft still needs to wade into the distribution waters so it doesn't get in over its head juggling Surface 2 production and inventory. "Microsoft needs to expand the number of resellers fast, but it needs to make sure it's with the right VARs," Tirthankar said. "Based on its limited indirect go-to-market model in the U.S. and the subsequent lessons learned ($900 million Surface loss related to excess tablet inventory), Microsoft should be flexible with its approach moving forward, which might need to be adjusted and localized as they enter other markets/countries," Tirthankar wrote in a research note.
Sources with the inside scoop on Microsoft's channel strategy warn Redmond needs to walk -- not run -- into the channel. They say Microsoft, which is new to the tablet hardware market, simply does not have the processes in place, along with logistical muscle, for broad and deep distribution of Surface.
Partners say Microsoft has fixed nagging design issues that plagued the first-generation Surface such as low battery life, but still needs to improve its overall go-to-market strategy with the tablet products. They say Microsoft's ecosystem of apps, back-end services and software aren't fully baked yet.
Here is a hard BYOD pill for Microsoft to swallow. Nearly 75 percent of mobile BYOD devices in the enterprise are iOS devices, and Android makes up the bulk of the rest of the gear, according to Good Technology's most recent Good Mobility Index Report (PDF). Microsoft's Surface tablets weren't even on Good Technology's radar screen.
Margins will shift, but analysts say Microsoft has blown the first-to-market advantage that Apple and Android are clearly enjoying.
If there is still any doubt that OEMs are fuming over Microsoft's decision to introduce the Surface tablet and compete directly against them, the following comments leave little doubt how HP, Lenovo and Acer feel.
HP's CEO Meg Whitman (pictured) said recently: "Current long-term HP partners, like Intel and Microsoft, are increasingly becoming outright competitors."
Todd Bradley, the head of HP's PC division, told Citeworld: "I'd hardly call Surface competition… It tends to be slow and a little kludgey as you use it .... It's expensive."
Acer Chairman and CEO J.T. Wang told the Financial Times: "We have said [to Microsoft], 'Think it over. Think twice. It will create a huge negative impact for the ecosystem and other brands may take a negative reaction. It is not something you are good at, so please think twice."'
Note to Microsoft: It's still about the apps, stupid. The famous phrase -- repurposed for Surface -- seems apt to describe Microsoft's app problem.
A lack of a robust selection of apps is one of Microsoft's biggest challenges when it comes to competing with Apple and Android tablets. There are 100,000 apps in Windows Store compared to the 1 million in Google Play or 900,000 in the App Store. While Microsoft adds apps with the launch of Windows 8.1, many of Microsoft's 100,000 apps are of low to mediocre usefulness and quality.
A dearth of quality and quantity of apps is even more apparent for Windows 8.1 RT owners, who only will have the Windows Store to rely on for software.Microsoft's biggest challenge with Surface may be itself. Is the Surface a tablet or a laptop replacement?

Panos Panay, corporate vice president of Microsoft, said of the Surface when he announced it in New York: "I want to be super clear on what we designed Pro for. Very easy to understand. This should be the fastest PC you pick up -- period. People get confused because of the form factor ... It was designed as a PC."
The 2-pound Surface Pro 2 has a similar weight to an ultraportable. With a $900 price tag (before keyboard), Surface is priced like a notebook. Microsoft even markets the Surface Pro as a "2-in-one device." The Surface 2, starting at $350, ships with a version of Office. But Microsoft still hasn't delivered a finger-friendly version of Office for the Windows 8.1. That forces Surface 2 users to buy a keyboard to get the most out of Office on their tablet.

Until Microsoft is able to clearly position Surface to the public, it may leave buyers scratching their heads and sticking with iPads and hybrid ultraportable laptops.