2011 Fast Growth
Leaps and Bounds
The Three Ps of Fast Growth: Planning, People, Partnering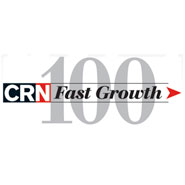 How fast is fast? Companies on the 2011 Fast Growth list grew in percentages that were not measured in double or even triple digits, but by the thousands. Edge Solutions, the IT solution provider with the largest increase in sales revenue between 2008 and 2010, grew by 2,633.33 percent. Ahead was the second company with percentage growth in the thousands, coming in at 1,940 percent growth. Overall, the Fast Growth 2011 had revenue of $10.35 billion, up from $5.33 billion two years ago.
The average two-year growth rate of all 100 companies on our list was an impressive 187.2 percent; their average revenue is $103 million.
Fast Growth companies range from $1.3 million (Summit 7) to $1.3 billion (Presidio) in annual sales, which illustrates the breadth of the list. Fast Growth companies come from every part of the spectrum: 20 percent have revenue of $5 million to $9 million; 19 percent, $10 million to $24 million; 17 percent, $25 million to $49.9 million; 11 percent, $50 million to $99 million; 15 percent, $100 million to $249.9 million; 13 percent, more than $250 million. Only 5 percent had revenue of less than $5 million.
Storage virtualization, SAN and NAS top the list of technologies these solution providers offer. In addition, blade servers, routers/switches, network management tools and cloud security were popular. In terms of future investments, VARs are looking at cloud networking, NAS and UC/VoIP.
--Jennifer Bosavage
CRN honored several members of the 2011 Fast Growth 100 with an awards ceremony at the Fast Growth event in Miami, Fla. Here's a look at the winners.
CRN Fast Growth members explain how taking care of employees and fostering strong communication with customers has helped them reach new heights.
Our 2011 CRN Fast Growth 100 companies have managed to fight some pretty strong economic headwinds and achieve eye-popping revenue growth.
Fast Growth executives share their thoughts on driving their companies' success in the competitive IT solution provider landscape.
A solid foundation for building and maintaining a Fast Growth company is dependent on mastering the three 'Ps:' Planning, People and Partnering.