Printer-friendly version
Email this CRN article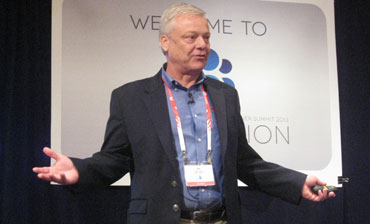 Rob Claus, vice president of channels, Huawei Enterprise U.S.A.
There's a new "no more Mr. Nice Guy" attitude at Huawei Enterprise U.S.A. as the company starts pushing back against what it sees as unfounded criticism of the company by competitors.
Huawei Enterprise U.S.A., the Cupertino, Calif.-based subsidiary of China-based telecom and IT giant Huawei, this week used its Huawei Partner Summit channel partner conference to tell partners that the company will no longer stand by while competitors use the media and government to criticize it.
Rob Claus, vice president of channels for Huawei Enterprise, said that competitors have been trying to set the tone of the Huawei brand, and that it is time for Huawei to brand itself based on its technology and innovation.
[Related: Huawei's ICT Nation Aims To Unite Partners, Vendors, CIOs In One Community]
"Our competitors are not being nice to us," Claus said. "We're not going to be nice to them."
Huawei has been facing allegations from Cisco and the U.S. government of collusion with the Chinese government, allegations that have made it difficult for Huawei to establish a U.S. presence despite its status as company with operations worldwide and revenue of $38 billion.
Partners applauded Huawei Enterprise for taking a stand against Cisco and other competitors that have tried to brand Huawei as being too close to the Chinese government.
Claus' comments were the first time someone articulated Huawei's competitive advantage and portfolio of solutions offerings, said Joe Asady, CEO of Netfast Technology Solutions, a New York-based IT solution provider and Huawei partner.
"Huawei to this point has taken it on the chin," Asady said. "In America, you need to defend your brand."
Huawei has one of the IT industry's widest portfolios, one that it developed with its own innovation capabilities, Claus said. "Huawei doesn't acquire," he said. "We innovate."
However, he said, competitors such as HP, Cisco and Dell have "innovated" via acquisitions. "It's pretty expensive to innovate," he said. "It's expensive to keep up with engineering."
Claus listed out recent competitors' attempts to innovate, including HP's trouble-ridden Autonomy acquisition, Dell's acquisition of Compellent, and reports that IBM may sell its x86 server business to China-based Lenovo.
Companies like HP or Dell have to do a better job of explaining their definition of innovation, Claus said. "You have to say to yourselves, it's not innovation," he said, and people should ask "Is it innovation? Or an attempt to innovate?"
NEXT: Huawei Looking To Be The Next Channel Favorite
Printer-friendly version
Email this CRN article