Printer-friendly version
Email this CRN article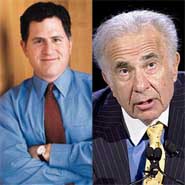 Michael Dell (left) and Carl Icahn
Solution providers are relieved to see the cloud of uncertainty over Dell's immediate future lifted after Dell shareholders voted to approve the company's privatization plan.
Dell shareholders on Thursday agreed to CEO Michael Dell and his investment partners' plan to take Dell private in a deal worth nearly $25 billion, beating back investor Carl Icahn's moves to block the leveraged buyout.
The vote now lets Dell proceed with plans to move from a PC focus to an enterprise focus without worrying about Wall Street scrutiny or Carl Icahn disruptions, solution providers said.
[Related: Dell Execs Behind The Scenes: We Can't Flip-Flop On Strategy]
"We're finally rid of the shackles of Carl Icahn," said Paul Clifford, president of Davenport Group, a St. Paul-based solution provider and Dell partner.
Clifford said he's pleased to hear about the vote. "The whole cloud hanging over this privatization from Carl Icahn has not been good for the company, not good for customers. It left a cloud over Dell's technology direction. And, now it's gone!"
Dell has the best IT vision in the industry, Clifford said, thanks to a series of smart acquisitions such as Compellent and EqualLogic in storage, data compression technology developer Ocarina, Quest Software, and more.
"Now Dell is free to restructure itself," he said. "When you look at the acquisitions Dell has made in the last three to four years, they're not point products. Dell is always saying, everything is 'better together.' Well, guess what? It is."
Michael Dell has always remained true to his roots, open and available, and willing to adapt to meet customers' needs, wrote Douglas Grosfield, president and CEO of Xylotek Solutions, a Cambridge, Ontario-based solution provider and Dell partner, in an emailed response to CRN.
"[Things] can only get better without [Dell's] vision in the tech industry being hampered by the realities of running a massive and leading edge tech firm as a [publicly] traded company," Grosfield wrote.
Thomas Echevarria, CEO of Xatacom, a Dell partner based in Fort Worth, Texas, called the vote exciting news.
"We have always championed Michael Dell over Carl Icahn," Echevarria said. "We look at Michael Dell as the leader of the company in the same way Steve Jobs was to Apple. Now, Michael has the strength and leadership to do what he wants."
The IT industry is changing rapidly, and companies need to keep pace with those changes, Echevarria said. "If Michael can change the direction of Dell faster without having to worry about the monkey of Wall Street on its back, than that's a good thing," he said.
For many solution providers, the big news actually happened when Carl Icahn gave up his fight over the future of Dell.
"We are as surprised as anyone that Carl Icahn has stepped back from his efforts to keep Dell from going private, which has been an interesting battle to follow in the news at CRN," Grosfield said.
NEXT: Vote Anti-Climatic, But Solution Providers See Exciting Changes Ahead
Printer-friendly version
Email this CRN article