Printer-friendly version
Email this CRN article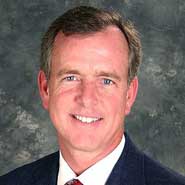 Jerry Lumpkin
Red Hat on Tuesday unveiled a number of enhancements to its channel program, with an emphasis on helping channel partners get better prepared to build hybrid clouds based on open source technology.
New from Red Hat is what the company calls the first-ever channel program designed around helping solution providers build OpenStack clouds.
Also new are the first formal channel programs for several components provided by Red Hat for building OpenStack-based clouds, including Red Hat Enterprise Storage, Red Hat CloudForms technology and Red Hat Enterprise Storage.
[Related: Google Prepping Tiered Channel Program For Google Cloud Platform]
Red Hat also unveiled new enhancements to its Online Partner Enablement Network (OPEN), including a new deal registration program giving partners enhanced protection and margins for up to two years, said Jerry Lumpkin, senior director of North American channel sales for the company.
The enhancements were unveiled at the Red Hat Partner Summit, held this week in Scottsdale, Ariz.
Red Hat has been doing a lot of work getting many of its products ready for the channel, Lumpkin said. "You can't just take a product and put it in the channel without the right foundation," he said. "There's a lot of work done behind the scenes. It's not glamorous."
John Iacone, president of International Integrated Solutions (IIS), a Plainview, N.Y.-based solution provider and Red Hat partner, said if he were asked six months ago whether he could see his company offering OpenStack, he would have said no.
However, Iacone said, things have changed after seeing what Red Hat can bring to partners.
"Today, I'll say yes," he said. "OpenStack is growing quickly. I'm seeing our customers start to build their own cloud using OpenStack. Red Hat is here saying they've built a new OpenStack business in the last 12 months, and to show resellers what they have learned. They want resellers to build solutions. So I'll be looking at getting into OpenStack with Red Hat."
Building a better program for Red Hat's 800-plus North American channel partners is essential for the company's future success, said Mark Enzweiler, vice president of global partners and alliances at Red Hat.
Enzweiler told partners during his Red Hat Partner Summit presentation that over 80 percent of his company's customers are managed by its partner base. "This is why we have to lean heavily on you to understand the voice of the customer," he said.
NEXT: Channel Program For OpenStack
Printer-friendly version
Email this CRN article