Printer-friendly version
Email this CRN article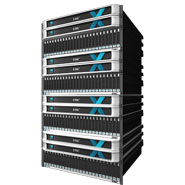 XtremIO, EMC's first all-flash storage array
EMC Tuesday advanced its flash storage strategy with the official unveiling of its first all-flash storage array and the introduction of a new line of PCIe Flash storage accelerators.
The storage kingpin also introduced a new software suite it said will manage all flash storage across the data center.
With the new additions to its lineup, EMC now has a very comprehensive flash storage portfolio from the server to the all-flash array, said Zahid Hussain, senior vice president and general manager of EMC's Flash Business Unit.
[Related: NetApp Takes Build-It, Not Buy-It, Approach To FlashRay Flash Storage Strategy]
"We're committed to an end-to-end approach on how flash is deployed and managed," Hussain said.
EMC's new flash strategy starts in the server with the XtremSF series of PCIe-based flash storage accelerator cards.
The XtremSF cards are available using either SLC-based or eMLC-based technology, Hussain said. The SLC-based XtremSF cards were designed with either 350 GB or 700 GB of memory, while the eMLC-based cards will be available in 550-GB, 700-GB, 1,200-GB and 2,200-GB models.
Hussain compared the XtremSF performance to that of Fusion-io, one of the leaders in this market, saying that the EMC models feature higher performance because they use less of the host server's processing power to handle the flash storage functions.
Both EMC partner Cisco and EMC archrival NetApp partner with Fusion-io for PCIe-based flash storage accelerator technology.
XtremSF is not EMC's first server-based PCIe flash storage offering.
EMC last year unveiled VFCache, which combines EMC's software with PCIe flash storage software with SLC-based hardware from either LSI or Micron. With the introduction of its XtremSF line, EMC will discontinue the use of the VFCache moniker and offer both eMLC and SLC models with the XtremSF logo, Hussain said.
EMC, Hopkinton, Mass., also officially rolled out its first all-flash storage array, which resulted from EMC's 2012 acquisition of Israel-based startup XtremIO.
Josh Goldstein, XtremIO vice president of marketing and product management for EMC's Flash Business Unit, said the new all-flash storage array is now in directed availability, meaning that it can be sold to customers with certain use cases, and that it is expected to be in general availability in the second half of 2013.
NEXT: New XtremIO All-Flash Storage Array
Printer-friendly version
Email this CRN article