Printer-friendly version
Email this CRN article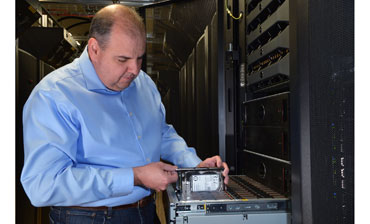 Ed Fiore, vice president of engineering for Dell's storage business, inspects a new Dell Compellent SC280 super dense data storage enclosure at the company's Eden Prairie, Minn., design center.
Dell Wednesday unveiled a new twist to tiered storage with the introduction of tiering between two different flash storage technologies in its Dell Compellent storage arrays.
Dell also enhanced its Compellent arrays with its first dedupe capabilities and new high-density storage shelf, and enhanced the support it offers its Dell EqualLogic storage customers, said Bob Fine, product director for Dell storage.
The updates to Dell's Compellent and EqualLogic storage lines were introduced at the Dell Enterprise Forum, which is being held this week in San Jose, Calif.
[Related: New Dell-Oracle Alliance To Bring Engineered Systems To Dell Customers, Partners]
The storage updates come while Dell continues to evolve into a provider of enterprise IT solutions, Fine said.
"Dell has been making the transition to a company that develops its own IP and has made a lot of acquisitions," he said. "And we have been converging our IP, not for IP's sake but to help customers do more with less."
Dell in early 2008 acquired storage vendor EqualLogic, a leader in iSCSI technology, and as a result became one of the top storage vendors in the industry.
Dell followed that acquisition with the 2011 purchase of Compellent, which gave it an enterprise-class storage line.
Paul Clifford, president of Davenport Group, a St. Paul, Minn.-based solution provider and Dell partner, said Dell has done well with the enhancements to its Compellent and EqualLogic storage acquisitions.
"This provides those of us selling solutions to offer more options," Clifford said. "The granular approach to the storage architecture lets us design whatever the customers need."
Dell Wednesday introduced the Compellent Storage Center 6.4, an updated version of the Compellent architecture designed for dramatic performance gains over Storage Center 6.3, Fine said.
New with Compellent Storage Center 6.4 is an enhancement to its Data Progression tiering software that now includes a tiered flash storage layer.
"We now provide a flash-optimized solution," he said. "We have offered SLC flash technology for a while, but we are now extending Compellent to lower-cost MLC flash. Customers have been struggling with finding the right flash. Do they want the performance and reliability of SLC? Or the capacity of lower-cost MLC? Now we leverage both."
NEXT: Dell Compellent Gets Tiered Flash, Highly Dense Disk
Printer-friendly version
Email this CRN article