Printer-friendly version
Email this CRN article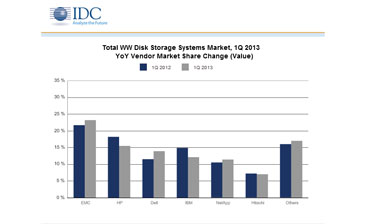 Click for full-sized view.
While EMC remains the undisputed king of a slowly falling storage market, NetApp bested EMC in terms of disk storage growth in the first quarter of 2013, according to an IDC report.
However, the biggest shift in the storage industry comes from non-storage-focused vendors where Dell's rising server sales and Hewlett-Packard's falling server sales are pushing Dell to within striking range of becoming the world's second-largest supplier of overall disk storage system revenue.
The analyst firm Friday said the first quarter 2013 worldwide total disk storage systems market fell 3.2 percent over last year's first quarter to $7.7 billion, the first time since 2009 that storage revenue recorded a year-over-year drop.
[Related: Dell, Cisco Pummel Competition In 1Q Server Market: Gartner]
At the same time, worldwide external disk storage systems revenue fell 0.9 percent year-over-year to $5.9 billion, IDC said in its Worldwide Quarterly Disk Storage Systems Tracker.
In IDC nomenclature, the external disk storage systems market includes disk storage systems and related elements including controllers, cables and HBAs associated with three or more disk drives attached outside a server.
Total disk storage systems include disk storage connected inside and outside the server.
With revenue of $1.8 billion, up 3.8 percent over last year, EMC is the leading vendor, by any measure.
NetApp's revenue grew 4.5 percent over last year to $879 million, helping it maintain its No. 2 spot in the external disk storage systems ranking and its No. 5 ranking in the total disk storage market.
However, the big move in this year's rankings comes from HP and Dell.
HP, with first quarter storage revenue of $1.2 billion, maintained its rank as the world's second largest supplier of disk storage systems. However, that represented a 17.4 percent drop in revenue over last year.
Dell, on the other hand, leaped over IBM to take the No. 3 spot with revenue of $1.1 billion, up 16.7 percent over last year.
IBM didn't help matters much with its 21.1 percent drop in total storage revenue to $937 million, causing it to sink to fourth place and giving NetApp an opportunity to overtake IBM in the near future.
NEXT: Dell Storage Up, HP Down, Following Their Server Sales
Printer-friendly version
Email this CRN article