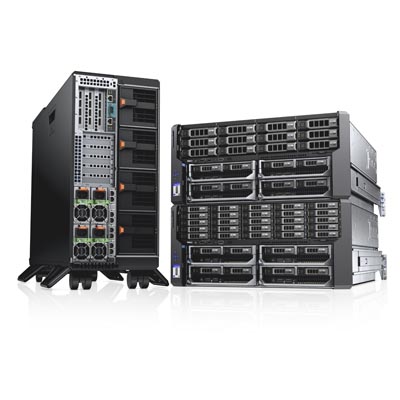 Dell PowerEdge VRTX
In 2011, Dell's PowerEdge C6145 caught our eye with its 96 Opteron cores in a 2U, two-node design. In 2013, Dell doubles the fun with the

PowerEdge VRTX
, a desktop data center capable of housing up to four server nodes, 48 TB of storage and enterprise-grade network switching in a single cabinet or 5U rack enclosure. Designed specifically for a small office, enterprise branch office or campus department, the PowerEdge VRTX starts with two M620
or M520 Intel-based blade server nodes, which top out at 12 Xeon

E5 cores and as much as 768 GB of DDR3 memory. It can accept

a third and fourth blade in any combination depending on budget,

computing requirements or intended applications. VRTX includes an

eight-port Gigabit Ethernet switch and redundant power supplies, and

uses many of the same hot-swap components as other Dell systems.

Designed for remote, headless operation and management, a

color LCD panel displays system status and most vital configuration

settings. Pricing starts at $2,015.