Printer-friendly version
Email this CRN article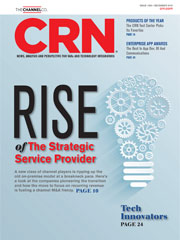 December 2015
FEATURES
It's officially a new era in the channel, with business consulting and recurring revenue services taking precedence over project-based, on-premise technology procurement.
CEO Michael DeCesare says ForeScout has seen 'absolutely crazy growth,' reaching more than $100 million in annual revenue this year – an increase of 50 percent year over year. Driving that growth, he says, are its 154 active channel partners.
To find CRN Test Center gold we tinkered, tested and sometimes got tough with the best 2015 had to offer when it came to tech. From big iron to thin and light, we reviewed close to 100 products over the past year and present the gear that had the just-right mix of wow and practical business applications.
The CRN Test Center scrutinized products within 19 categories of IT and evaluated each based on its ability to increase worker productivity and reduce cost and complexity for solution providers, IT departments and end users through innovation and technical advancement.
The winners of the 2015 Enterprise App Awards were carefully chosen by CRN editors and represent both the heavy hitters of the IT industry and the lesser known startups that are driving innovation.
CRN assembles a number of lists and rankings throughout the year, including the Solution Provider 500, the Fast Growth 150 and the Tech Elite 250. CRN recognizes the 57 solution providers that earned a spot on all three lists this year with the second-annual Triple Crown honors.
The Internet of Things market is exploding, with an estimated $19 trillion opportunity up for grabs. CRN has compiled its inaugural list of 50 companies who are building tailored-made IoT solutions that channel partners need to know.
COLUMNS
The key metrics necessary to succeed in the Strategic Service Provider era are diametrically opposed to the metrics in the solution provider era.
The Strategic Service Provider model represents solution providers who become strategic partners to customers by recommending and implementing everthing from communication providers to which application, platform and hardware providers to depend on.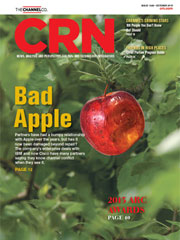 October 2015
FEATURES
Partners have had a bumpy relationship with Apple over the years, but has it now been damaged beyond repair? The company's enterprise deals with IBM and now Cisco have many partners saying they know channel conflict when they see it.
Here we present our annual honoring of the channel management executives who may have slipped under the radar despite building booming channel programs, designing innovative partner incentives, evangelizing hot technology and much more.
CRN spotlights those companies devoting significant resources to their cloud partner programs and backing up partners with training, support and financial incentives.
Solution providers across America put on their thinking caps and graded their IT vendors across 22 product categories as part of CRN's Annual Report Card, which is celebrating its 30th anniversary this year.
When it comes to managing the rapid growth they've experienced, this year's Fast Growth solution providers can sum up their success strategies in one word: focus.
The Fast Growth 150 is CRN's annual ranking of the fastest growing solution providers, resellers, technology integrators and IT consultants in North America.
Time Warner Cable (TWC) is on a channel tear, doubling its channel budget in the last 18 months as part of an all-out IT solution provider recruitment binge.
Technology in big data management and analysis continues to evolve at a break-neck pace. Here's 10 recent product launches and key upgrades that you need to know about.
COLUMNS
When Microsoft launched its Surface tablet and decided it was going to be a direct-sale-only product, with no offering it to customers through the channel, it was a point of contention.
Symantec CEO Mike Brown must feel like the weight of the world has been lifted off his shoulders now that his company is focused squarely on the red-hot security market.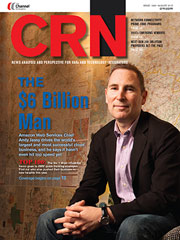 August 2015
FEATURES
Amazon has built its entire business around the idea of moving quickly. Andy Jassy has taken this philosophy to a whole new level with Amazon Web Services.
CRN's Top 100 Executives Of 2015 honors the tech CEOs that are best at navigating a market that is transforming at a blinding speed.
Our directory of enterprise connectivity vendor's partner programs.
This year's edition of the CRN Emerging Vendors list has more than 180 companies, all with something going for them.
Our Emerging Vendors are actively working with channel partners in North America.
We present the 2015 CRN Next-Gen 250, the annual list of solution providers that are setting the pace for the rest of the channel in meeting customers' ever-evolving IT needs.
Here we present 25 companies on CRN's 2015 Next-Gen 250 list, a spotlight shined on 250 solution providers born since 2005.
It's been an interesting year so far in the server market as the industry's top players ramp up and scale out their offerings as they try to capitalize on the red-hot hyper-converged market and customers' desire to drive down costs.
COLUMNS
The move to cloud-based computing is rapidly becoming a reality for businesses in all markets, opening the door for startups and leaving hardware-infrastructure-focused vendors without clear cloud strategies in the dust.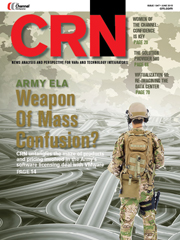 June 2015
FEATURES
CRN untangles the maze of products and pricing involved in the Army's software licensing deal.
VMware's 2013 enterprise licensing agreement with the U.S. Army led to larger-than-expected bills for some subordinate commands, but there have been some DoD ELAs that have worked out quite well.
According to licensing experts CRN spoke with, the cloud model isn't the cost-control panacea some ELA-weary customers might think it is.
CRN honors 440 women whose channel expertise and vision are deserving of recognition
The Solution Provider 500 is our annual ranking of the top solution provider organizations in North America, ranked by revenue.
The CRN Big Data 100 recognizes vendors that have demonstrated an ability to innovate in bringing to market products and services that help businesses work with big data.
COLUMNS
The reality is that the cloud model, while exciting and a better place to be over the long term, is not going to be the only way to deploy IT for a very long time.
TekLinks metric for success is staying close to its customers and acting as a strategic solution provider for whatever is going to drive value in the increasingly complex cloud-hybrid IT era.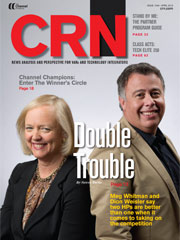 April 2015
FEATURES
Meg Whitman, Dion Weisler and HP partners say the company's historic split will put both new businesses in prime position to knock down some old-school competitors.
HP laid out the challenges it will face with its upcoming split in a filing with the SEC last month. Here are five "risk factors" associated with the split.
The 2015 Partner Program Guide offers the information solution providers need to evaluate the IT vendors they work with or are considering working with.
The technology landscape is transforming so quickly that it's hard for any business—vendor or solution provider—to keep up with the pace of change. But one thing remains constant: the power of partnerships.
Here we present the distributors and their programs worthy of making the 2015 Partner Program Guide.
Solution providers and vendors gathered in Dallas recently for XChange Solution Provider 2015. XChange also was the venue for CRN's 25th annual Channel Champions awards. Here are the victors in each technology category.
IT skills can go stale very, very quickly and the solution providers on CRN's Tech Elite 250 know this better than anyone.
The Tech Elite 250 is comprised of solution providers who differentiate themselves by investing in certifications in the area of infrastructure, including data center, storage and virtualization. Here is a sampling of that list.
These 10 products add to traditional data loss prevention, antispam and website security capabilities, improving insight into weaknesses often targeted by attackers.
COLUMNS
No matter how fast you are moving to transform your business in the cloud services era, the depressing reality is you are not moving fast enough.
Making it happen in the channel is about relationships. It's earned through hard work, a lot of airport food and time away from home.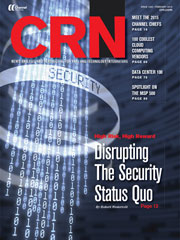 February 2015
FEATURES
The margins may be high, but solution providers need to weigh the risks associated with partnering with security startups.
Is the IT security market too crowded? These startups certainly don't think so. Here are six security startups worthy of the channel's attention.
The 2015 installment of the 100 Coolest Cloud Computing Vendors highlights the best of the best in infrastructure, platforms and development, security, storage and software.
CRN's annual Data Center 100 highlights the providers that combine innovation, market share, market presence, buzz, technology and channel capabilities
Meet the executives responsible for running channels at vendors in the IT market today.
CRN's annual MSP 500 list recognizes those companies whose approach to managed services is one innovative step ahead.
CRN looks through the crystal ball and offers 10 predictions for the storage industry for 2015.
COLUMNS
Channel Chiefs, the really good ones, are crucial to the success of the tech industry, and often don't get the credit they deserve.
If you need proof that the solution provider landscape is changing, look no further than the merger of Accuvant and FishNet, creating a $1.5 billion security giant with 1,400 employees.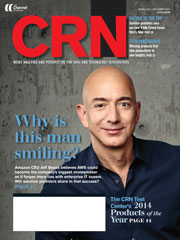 December 2014
FEATURES
Amazon CEO Jeff Bezos believes AWS could become the company's biggest moneymaker as it forges more ties with enterprise IT buyers. Will solution providers share in that success?
The CRN Test Center presents 10 cloud solutions that are transforming the way organizations conduct business.
CRN assembles a number of lists and rankings throughout the year, including the Solution Provider 500, the Fast Growth 150 and the Tech Elite 250. CRN recognizes the 26 solution providers that did earned a spot on all three lists with our first-ever Triple Crown honors.
The technological leaps and bounds continue as the CRN Test Center faces the tough task of selecting the best products to come through its labs this year. This is one winner's circle with a big wow factor.
Apps are the gifts that keep on giving to every enterprise worker. The CRN Test Center hands out Appy honors in 10 categories, as well as an Editors' Choice.
The CRN Test Center's Tech Innovator Award program recognizes companies for outstanding innovation in products developed for the enterprise. Here we present to you the The 2014 Tech Innovators.
COLUMNS
If you are running a solution provider business today that is not driving 51 percent of profit from the service side of the house, you need to take a hard look at your business.
Amazon is missing out on a big chunk of the enterprise-class data center market largely because it has failed to look beyond its born-in-the-cloud partners.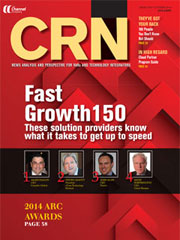 October 2014
FEATURES
CRN's Fast Growth 150 solution providers know a thing or two about keeping up to speed and up to date with the latest technologies and business models. Here's how the top 25 stayed at the top of their game.
Successful solution providers know that times of change create opportunities. The solution providers on this year's Fast Growth 150 list are doing just that.
CRN looks at the under-the-radar players that make sure solution provider partnerships thrive and business gets done.
CRN has been polling solution providers for 29 years for their take on the strengths and weaknesses of the IT vendors they work with.
CRN's first-ever Cloud Partner Program Guide highlights those companies with the right programs in place to help solution providers kick things into high gear.
For solution providers specializing in the cloud computing market, business is growing at breakneck pace.
CRN looks at some of the hottest virtualization products for streamlining data centers and making them more productive.
COLUMNS
As managed services become increasingly viewed as a commodity, the time is now to transform into a recurring revenue services business that capitalizes on next-generation cloud-based vendors.
Every once in a while something comes along that is so preposterous it's silly and, dare I say it, stupid.
August 2014
FEATURES
Cisco CEO John Chambers has been through market transitions before, but his planned retirement is the real change on the minds of Cisco's partners.
Combine a tech market that is rapidly discarding old business models with the damage done by a rogue former government contractor and you have what may well be the most treacherous terrain ever faced by technology CEOs.
This year no one person has rattled the worldwide technology market, its vendors, vendors' partners, and business owners large and small more than Edward Snowden.
Our list of more than 350 emerging tech startups in 2014.
As IT networking and telecom vendors expand into new markets or offer new technologies, solution providers must constantly evaluate—and re-evaluate—which vendors they should be partnering with.
The industry's leading portfolios of telecom, cloud and connectivity offerings.
In today's rough-and-tumble IT market, offering ground-breaking technologies or adopting the latest business practices is almost a requirement rather than providing a solution provider with a competitive edge.
Solution providers that are setting the pace for the rest of the channel.
While hardware fills all that data center space, it is the software behind it, including data center infrastructure management (DCIM) and other applications, that makes it all run efficiently.
COLUMNS
Cisco is a hardware company that is facing a software challenge as the move toward a software-defined network strikes at the heart of its business model.
When vendors are under intense pressure, solution providers are always the first to fall subject to the whims of top management aiming for short-term transaction gains rather than long-term strategic strength.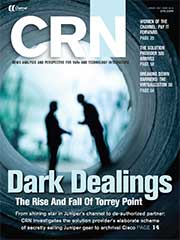 June 2014
FEATURES
Torrey Point rose to prominence as Juniper's Western Region Partner of the Year in 2009, but according documents obtained by CRN from the Los Angeles Superior Court, the solution provider was secretly selling new Juniper equipment to Cisco.
The top solution provider organizations in North America, ranked by revenue.
This year's Solution Provider 500 companies have managed not only to survive-but thrive-by specializing in cloud computing, converged infrastructure, big data analytics and more.
Among the companies named to this year's Solution Provider 500 are 62 companies that are new to the list.
This year, CRN honors 295 Women of the Channel whose expertise and vision are deserving of recognition.
CRN speaks with Women of the Channel executives about the mentoring programs at their companies and the many professional—and personal—rewards.
These 10 security vendors specialize in providing assistance throughout the entire life span of an attack from rapidly detecting a threat to containment and providing information to digital forensics investigators.
Take a look at the 15 most popular certifications, how much money they make and why IT professionals say they are key to have as part of the solution provider portfolio.
CRN presents its annual list of the virtualization vendors -- established players and the startups – that need to be on the channel's radar.
Virtualization, whether in terms of servers, storage, networking and applications, is now table stakes for the channel.
COLUMNS
The amount of new practices, products and recurring revenue services brought to market are the vital signs of a solution provider business.
Here are the top priorities partners should focus on to determine a vendor's commitment, and suppliers can use to assess their own programs.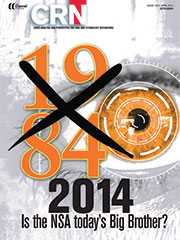 April 2014
FEATURES
Concern over the U.S. government's global surveillance program has prompted potential clients to demand increased transparency into internal processes when evaluating cloud services.
Channel Champion award winning vendors were chosen based on the scores provided by 6,000 solution providers across a wide range of technologies.
The 2014 Partner Program Guide offers the information solution providers need to evaluate IT vendors they work with or are considering working with.
Speed, design and innovation continues to be defining factors driving the 2014 tablet market. Here are 10 tablets that are sure to make noise this year.
The Tech Elite 250 is comprised of solution providers in the U.S. and Canada who have the highest level and most certifications from the top vendors. Here is a sampling of that list.
COLUMNS
No matter how you cut it, customer adoption of the cloud is happening at a faster pace than anyone anticipated, and it has all comers scrambling to play catch-up in what is sure to be an era of heightened channel conflict.
For channel partners that represent a single vendor in the market in any technology segment, if that vendor falls into a particularly difficult situation, the partner is at risk as well.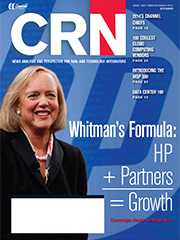 February-March 2014
FEATURES
Leading up to Hewlett-Packard's annual Global Partner Conference, HP CEO Meg Whitman spoke with CRN about the importance of partner engagement in the "new style of IT."
The Cloud 100 list aims to help solution providers navigate the growing cloud marketplace and identify the best solutions to support the IT channel.
The Data Center 100 looks at the kind of partners that offer their own combinations of innovation, market share, market presence, buzz, technology capabilities and channel capabilities.
These 271 executives are the who's who of channel management--heading up the partner programs that solution providers depend on to run their businesses.
CRN's inaugural MSP 500 list honors the top technology providers and consultants, whose forward-thinking approach to providing managed services is changing the landscape of the IT channel.
COLUMNS
The Eaton victory is a case study in how to build a channel program. It required a major investment over the past five years with a fanatical commitment to constantly improving every aspect of the program and, just as importantly, the product line itself with big investments in data center software.
For partners on the fence about the Meg Whitman era at HP, it's time to start feeling confident about the company's $112 billion commitment to solution providers.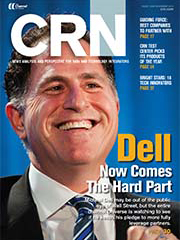 November-December 2013
FEATURES
It's been a great year for products. Large companies built on their past successes, while emerging firms delivered innovative solutions that could transform service industries and the high-tech landscape.
Here's a look at 10 new cloud products and services from some of the top cloud players in the industry, including Verizon Terremark Cloud Compute and Amazon Workspaces.
Integrated Media Technologies helped Falken Tire, which took advantage of the real estate downturn to acquire a new headquarters building, with the design and deployment of a new data center.
Michael Dell's long fight to take his company private is over, but that doesn't mean he's on easy street.
Michael Dell takes the CRN hot seat, fielding hard questions about the future of the channel and how the company hopes to move the needle on growth.
Many longtime partners that have gone all in selling the SonicWall appliance line told CRN they now have to share the battlefield with the Dell direct sales force.
Get a first look at CRN's third annual exclusive new research study, Best Companies To Partner With, which asked solution providers to rank their must-have technology vendors.
As the Affordable Care Act site still struggles, a trio of software developers has banded together to create a user-friendly solution that actually works.
COLUMNS
Palo Alto Networks was built from the ground up as a 100 percent channel sales company and its channel sales team has made sure that its sales model is just as disruptive as its next-generation firewall.
When it comes to what happens in the field, solution providers need engagement with partner account managers that are focused on helping partners go to market together.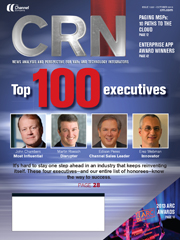 October 2013
FEATURES
CRN Enterprise App Awards recognize the year's best apps for communication, administration, information access and management, contact management and productivity.
Do you need a new tool, platform or program to help your managed services businesses grow? Here are 10 offerings from some of the top cloud and systems management software companies.
Step by step, cloud-focused solution providers are looking to adopt the managed cloud-as-a-service model and get into the ERP cloud game.
Solution providers are always looking for more than just a vendor--they're looking for a partner as well. Here are the companies they believe have gone above and beyond.
Which vendors are treating their partners right? Solution providers tell all in CRN's Annual Report Card.
CRN looks at the vendors whose channel programs either made big improvements or took a step backward according to the solution providers who rated them in this year's Annual Report Card.
The results are in. Solution providers surveyed in 19 categories offer a look at which vendors are doing best by their partners. Here are the IT vendors to which solution providers awarded top honors in each category.
In an industry that keeps reinventing itself, leaders have to have a steady handâand an open mind.
In the last part of our ranking of the Top 100 Executives Of 2013, CRN recognizes the 25 innovators who are setting the technology course.
In part 3 of our ranking of the Top 100 Executives Of 2013, CRN salutes the 25 channel sales leaders who take vision and technology and make it real for solution provider partners.
As part of our ranking of the Top 100 Executives Of 2013, CRN looks at the 25 executives who shook up the IT industry this year.
In an industry that keeps reinventing itself, leaders have to have a steady hand--and an open mind. Here, we present the 25 Most Influential Executives Of 2013.
COLUMNS
For big time players like Michael Dell and Meg Whitman, success with the channel is personal.
Because the technology market is continually changing, there is no perfect channel for very long. But there is a way to get very close to one, and it requires CEO leadership, a team of loyal executives that believe in the goal, and a commitment to take feedback from the field and build a business that is easier to work with.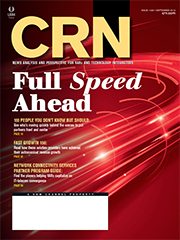 September 2013
FEATURES
As the IT and telecom channels converge, solution providers and telecom agents hook up to offer the kind of business connectivity customers demand. Welcome to CRN's 2013 Network Connectivity Services Partner Program Guide, where you can find the partners who are ready, willing and able to 'connect' you.
CRN takes a look at the under-the-radar players that make sure solution provider partnerships thrive and business gets done.
The solution providers on this year's Fast Growth list have just short of $24 billion in combined annual revenue, up from $21.1 billion last year, $10.4 billion in 2011 and $5.3 billion in 2010.
Dell outlines a familiar road map for life as a private company after its $24.9 billion leverage buyout.
CRN's Tech 10 looks at the latest UltraHD products currently available for the channel to leverage from Sharp, Sony, LG, Asus and Dell, plus digital display technology from Apple, AMD, Intel, Samsung and Viewsonic.
COLUMNS
Now comes the hard part for Michael Dell. With the yearlong battle behind him to take Dell private, the company founder now faces the biggest business challenge of his lifetime.
The desire for customers to invest more in line-of-business, customer-facing offerings is driving more customers to outsource IT-telecom overhead to solution providers.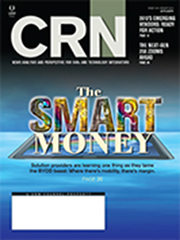 July/August 2013
FEATURES
When it comes to mobility, the key for solution providers is to translate technology expertise into sellable solutions. Here we present 50 technologies, apps and devices to help solution providers get the most bang for their mobile buck.
The latest "Tech 10" list from CRN looks at the high-performance servers, chillin cooling equipment and other technologies making waves in the data center.
There's an old saying that goes: Where there's mystery, there's margin. Now there's a new saying: Where there's mobility, there's margin.
CRN's Kathy Kim spoke with Chris Frey, vice president of North America channels and SMB at Lenovo, about the opportunities and challenges around mobility. Following are excerpts.
Here we present part one of the top 50 on CRN's 2013 Next-Gen 250 list, a spotlight shined on 250 solution providers born since 1998.
Among our list of more than 225 emerging vendors, these 25 stand out as the coolest tech startups in 2013.
CRN looks at 10 virtualization startups that have scored big investments and customer wins in the first half of 2013.
COLUMNS
In response to the accelerating pace of change recasting the solution provider business model and the technology services choices facing the channel, CRN through its parent company started the BoB (Best of Breed) conference three years ago.
As the move to more toward managed services, off-premises private cloud and, ultimately, to public cloud continues, the criteria vendors will use to choose channel partners will change.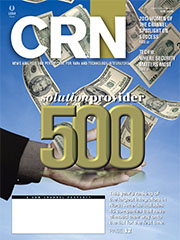 June 2013
FEATURES
The top solution provider organizations in North America, ranked by revenue.
These companies share the secrets to success that launched them onto this year's list of the largest solution providers in North America.
This year, CRN honors 295 Women of the Channel whose expertise and vision are deserving of recognition.
Startups are providing solution providers and MSPs a solid option for cloud storage, but before you sign up, be sure they are who they claim to be.
CRN identifies 10 vendors that have developed innovative ways to detect malware and analyze threats to better protect corporate networks. They take a giant step beyond traditional signature technologies.
COLUMNS
Amazon CEO Jeff Bezos can be none too pleased that a company he invested in is doing business with Amazon Web Services rival HP.
Does it make sense for solution providers to resell the Amazon cloud? Here a few important questions you have to ask in order to make the decision to put the livelihood of your customers' business on the Amazon cloud.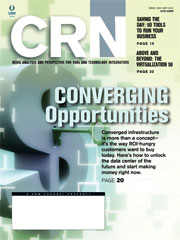 May 2013
FEATURES
Converged infrastructure spending is skyrocketing, and vendors are innovating like crazy. How do you unlock the door to the next big thing?
From server virtualization to virtual desktop infrastructure to network virtualization, CRN's Virtualization 50 celebrates the vendors tackling the different facets of virtualization technologies.
Here is CRN's list of 50 breakthrough tools - software platforms, applications and cloud services - that partners can use to run their own business and more effectively manage their customers' business.
COLUMNS
Dimension Data is setting up its cloud services business to give corporate customers what they're missing from Amazon Web Services.
Unlike the Carly Fiorina and Leo Apotheker stewardships, current HP CEO Meg Whitman has the right attitude for driving channel growth.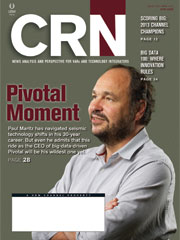 April 2013
FEATURES
The winners of CRN's 2013 Channel Champions survey, an annual look at how the channel and its solution providers view their vendor partners' products and services.
On the strength of its partner relationships, APC by Schneider Electric celebrates its 20th consecutive year as a CRN Channel Champion honoree.
Here we present CRN's inaugural Big Data 100 list, identifying vendors that have demonstrated an ability to innovate in bringing to market products and technologies that help businesses manage big data.
Paul Maritz is known for avoiding technology hyperbole. But even he knows that his big data business applications play is no small experiment.
Pivotal CEO Paul Maritz spoke exclusively to CRN about how the ambitious new big data venture from EMC and VMware will tackle Amazon Web Services.
Software-defined networking, mobility and the cloud has everyone in the network space upping their game. Here are 10 products that you must check out.
Frank Vitagliano joins Dell after seven years at Juniper Networks. He tells CRN why he made the move.
CRN checks in with the Channel@Work volunteer team, which made a trip to Grandma's House, an intergenerational nursing home. The project took place in conjunction with last month's XChange Solution Provider 2013 event in Orlando, Fla.
COLUMNS
Interested in in establishing a beachhead in the big data market? Pivotal CEO Paul Maritz offers solution providers a few thoughts on vertical expertise and education.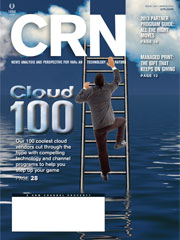 March 2013
FEATURES
CRN's 2013 Partner Program Guide offers solution providers the information they need to evaluate IT vendors and their channel partner programs.
Details on the leading hardware and software solution provider programs.
CRN looks at the systems vendors in our annual Partner Program Guide that received the 5-star award for their commitment and services offered to their channel partners.
The following vendors in CRN's annual Partner Program Guide received the 5-star award for their development tools, business applications and virtualization software partner program offerings.
It takes a lot stand out in the networking world these days, but the five-star vendors on this year's Partner Programs Guide managed to do so by offering the best programs in software defined networking, unified communications and more.
When it comes to securing partner programs, these vendors went above and beyond with their antivirus, firewalls, intrusion detection and other security offerings.
CRN looks at the storage vendors that received the 5-star award in our annual Partner Program Guide, for their commitment and services offered to their channel partners.
The following vendors in CRN's annual Partner Program Guide received the 5-star award for their Software-as-a-Service, cloud hosting, cloud services and other cloud-based programs.
The following vendors in our annual Partner Program Guide received the 5-star award based on their displays, components and digital signage in the peripherals space.
CRN honors distributors as part of our annual Partner Program Guide, including Tech Data, ScanSource, D&H Distributing, Avnet Technology Solutions and SYNNEX.
The Cloud 100 is an examination of the best players in the cloud computing game, broken down into five categories: platforms, infrastructure, storage, security and software.
It's not just Salesforce.com in the cloud software game these days. Check out the coolest cloud software vendors on this year's Cloud 100 list.
As storage vendors new and old make the move to expand their products and services to the cloud, we take a look at the 20 coolest cloud storage companies that made this year's Cloud 100 list.
Are you apprehensive about migrating to the cloud? Check out the 20 major cloud security companies that made this year's Cloud 100 list.
Are you apprehensive about migrating to the cloud? Check out the 20 major cloud security companies that made this year's Cloud 100 list.
If you're looking to get in the cloud business, a cloud infrastructure provider can get you there. Here are the 20 cloud infrastructure players that made this year's list of the 100 Coolest Cloud Computing Vendors.
Channel partners and MSPs are turning to managed print as a means of helping customers get budgetary control of a long-standing cost center.
From high-end graphics cards to motherboards, these components are pushing the limits and capabilities of today's systems.
COLUMNS
The IT decision-maker is changing and those stuck on the traditional VAR model must shift the conversation from products to business outcomes.
The time is now for the channel to reap the rewards of deploying cloud services. But while the key attribute to capitalizing on past tech trends were technical skills, the future in the cloud is all about sales and marketing.
In the wake of high profile cloud outages, it's time for solution providers to take a critical look at their web services partner.
IT vendors willing to invest in non-product-based skills show their solution provider partners that they are willing to make an investment in their company.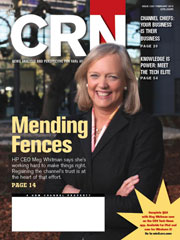 February 2013
FEATURES
Televisions were the big headliners at CES 2013, but PC-enabling monitors weren't so shabby either. From high-resolution to touch-enabled, the next generation of monitors are breathtaking. Here are 10 favorites.
HP CEO MEG Whitman knows the best way to stop HP-bashing in its tracks is to get the channel to believe again. Can she rebuild the trust?
HP is pairing a new 'pay for performance'-focused PartnerOne overhaul with a stepped-up solution provider recruitment effort.
These 255 executives are the who's who of channel management.
Meet the executives responsible for running channels at vendors in the IT market today.
Meet the executives responsible for running channels at vendors in the IT market today.
Being elite in the channel means holding the most elite technical certifications. In the 2013 CRN Tech Elite 250, we honor the solution providers with premier certifications from Microsoft to HP to Cisco and more.
The Tech Elite 250 is comprised of North American solution providers top-level certifications from Cisco, Citrix, Dell, EMC, Hewlett-Packard, IBM, Microsoft, NetApp, Symantec and VMware.
COLUMNS
As more and more vendors make their traditionally on-premises solutions available as-a-service, one has to wonder if this alternative to the on-premises product line will become the new norm.
As solutions providers move into the cloud services era, GE Capital is helping to usher in a new era of IT financing.
While selling hardware may be your bread and butter right now, it's very possible that your customers are hiding something from you.
The channel has changed quite a bit in the last decade. Here are three key elements to examine when evaluating potential vendor partners.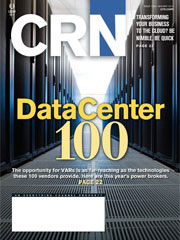 January 2013
FEATURES
CRN's Tech 10 looks at products that showcase how dynamic and diverse today's storage market has become, including cloud storage, game-changing hard drive and SSD offerings and a variety of hardware and software combinations.
Preserving the security of customer data is one of the most profound challenges faced by channel partners in 2013. And while exploits targeting large financial institutions and other enterprises tend to get the most attention, the dangers extend to companies of all sizes.
In an interview with CRN, Kevin Johnson sounds off on Juniper's SDN strategy, its restructuring, and how it plans to get its mojo back in security and data center.
Cisco Worldwide Partner Organization boss Bruce Klein discusses priorities for the coming year in his first on-the-record interview since taking the job.
CRN's annual Data Center 100 shines a light on the key technology vendors that are powering today's data center with everything from data backup tools to virtual data center solutions to cloud hosting services.
GreenPages CEO Ron Dupler tells CRN how he transformed the Kittery, Maine-based solution provider into a cloud powerhouse.
This year, the cloud will become widespread and used in revolutionary ways we didn't imagine a short time ago.
COLUMNS
By failing to distribute Microsoft Surface through the commercial sales channel will force Microsoft to rethink its channel strategy.
Return on investment is one of the most often missed components of a recruitment presentation when vendors recruit solution providers.
For long-standing channel partners Microsoft and Hewlett-Packard, the time is now to make things right for HP partners and Microsoft partners.
Dell's recent news that it's driving toward a potential private equity deal sounds like a good thing.
December 2012
FEATURES
From servers to laptops to tablets, 2012 was a great year of great products. Here are the ones we found to be the best.
Here's a look at the winners of the 2012 Tech Innovator Awards, including the CRN Test Center's 2012 Editor's Choice for the most innovative product of the year.
HP says former Autonomy CEO Dr. Mike Lynch should get ready to testify under oath about alleged accounting improprieties under the penalty of perjury.
Just before Polycom was about to fade away, the videoconferencing provider did several things to solidify its position in the marketplace.
Solution providers attending last week's VCE partner conference speak with CRN and say that the challenge remains how to convince customers to invest in the fully created Vblock stack and pay a premium for it.
Small storage vendors looked up, large vendors looked down and everyone looked at the storage cloud, flash technology and even old-school storage technology in 2012 to build the storage infrastructures that will impact customers in 2013 and beyond.
It was a wild year for the networking segment, with major changes in the channels of Cisco, Juniper and other major players, as well as with the industry-wide SDN trend starting to take hold in a big way. Here are the 10 stories that kept us buzzing this year.
COLUMNS
There were many channel blunders this year, but none worse than Microsoft's decision not to use the channel to sell its new Surface Tablet.
In cases where partners did not qualify for vendor-marketing support, they aligned with newer, competitive brands that were less established.
UBM is giving back with Business4Better.
Get ready for a year of accelerating consolidation in channels and the industry as a whole in 2013.
November 2012
FEATURES
In a year marked by significant technology innovation, CRN looks at the 100 executives that left their mark on the channel and made an impact throughout the industry. Here is our list of the Top 100 Executives of 2012.
Get a first look at CRN's second annual exclusive new research study, Best Companies To Partner With, which asked solution providers to rank their must-have technology vendors.
Top solution providers are confident the Obama Administration and Congress will avoid crushing BCA sequestration.
President Obama's re-election will lead to tax hikes and hurt businesses, some solution providers say.
Intel said the next generation of Itanium processors, code-named "Kittson," will make it possible to design common server platforms that can support either the Itanium or its x86-based Xeon processors.
As Fortinet creates its predictions for 2013, it also expects increases in two-factor authentication and "Fast Flux" rotation of IP addresses to conceal malicious servers.
Although Hurricane Sandy slammed into the East Coast this week creating widespread damage, cloud networks held up for the most part.
Avaya will focus on two distinct selling motions while it continues to invest to enable partners, top Avaya channel and sales executives said Thursday.
COLUMNS
As service provider vendors, IT and carrriers alike, refine the value propositions they make to you, they are watching your response to up-front or bonus-driven compensation.
Having a Harvard MBA may get you into the Harvard Club, but it's not the best route to becoming a successful channel chief.
In an unscientific look at some company websites, some put partners front and center, while others buried their partner links.
From Superstorm Sandy to the presidential elections, the past 30 days have provided a treasure-trove of insights for solution providers.
October 2012
FEATURES
Cisco's ability to see market transitions and constantly reinvent itself have kept it thriving and made it a better channel partner than any peer, said CEO John Chambers.
Windows 8 has arrived, and that means for many, it finally will be time to migrate from Windows XP, for which Microsoft is set to end support early next year.
While questions abound over how quickly customers will adopt Windows 8, solution providers see Windows-based tablets providing an alternative to Apple's iPad in corporate computing environments.
Windows 8 is here and with it comes a slew of devices ready to run the latest release of Microsoft's OS. Here we take a look at a dozen Windows 8-ready tablets, Ultrabooks and convertible PCs.
For more than a generation, CRN's ARC has highlighted what makes vendor partners great. And it's all from those who know best: solution providers.
Solution providers in the managed print services (MPS) space can stand to gain by incorporating mobile print software.
CRN recognizes AT&T Toggle, Red Funnel FatStax and Waze, by a company of the same name, in its annual Enterprise App Awards.
COLUMNS
Twenty-five years ago, Sam Haffar and his brother Jason started out building white-box PCs, and now they've made a deal to be acquired by Stratos Management Systems.
When it came to education and training, solution providers scored vendor-provided technical training first and sales training second, ahead of other training disciplines.
When it comes to good channel programs, many vendors talk the talk, but few walk the walk, with one exception: Cisco.
Customer buying behaviors are changing and solution providers need to match their product and service portfolios to that spend.
September 2012
FEATURES
The use of advanced data visualization technology is heating up developers of business intelligence, and data analytics apps look to handle big data.
Digital signage is expanding to include smaller-scale displays that offer a more personalized and interactive experience for users.
HP Executive Vice President Todd Bradley says the company's channel strength gives it a hands-down advantage in the business market versus Apple iPad and Microsoft Surface.
The convergence of the VAR and telecom agent channels is an intricate puzzle with many moving pieces. Here's a list of who's ready, willing and able to play.
Execs from companies on CRN's 2012 Fast Growth list offer up seven tips on how to revitalize a business, so that when opportunity knocks you'll be ready to go where the market takes you.
Past and present come together in this high-performance, high-availability storage appliance.
Cisco's worldwide sales chief says the vendor ecosystem is naturally a gray area: Cisco will partner with vendors in some areas and compete with them in others.
Neil Isford, an IBM VP, was CEO of a New York VAR two blocks from the World Trade Center. He still remembers the events like they were yesterday.
Moore's Law is alive and well, Intel said Wednesday, with 14nm chips in the pipeline for 2013 and 10nm chips next in line.
COLUMNS
A look at where HP was a year ago, where it is now, and where it needs to go.
For one executive, the move to an Apple laptop from IBM Wintel was a natural migration.
The top solution provider on the 2012 Fast Growth list, XIOSS, offers up its secrets to success.
Microsoft may not be any competition for Apple in the tablet market, but in the enterprise, Windows-based tablets will do well.
August 2012
FEATURES
The solution provider's steady climb is credited to investments in architecture and platform plays behind data center, collaboration, security, infrastructure, professional and managed services, and software for procurement and asset management.
A week before the VMworld conference starts, Dell and HP unveiled new zero-client devices and new reference architectures for VDI deployments, while Dell added new SSD support to its EqualLogic arrays
While the BYOD explosion has created headaches for IT staffs, the opportunities have never been greater for mobility-savvy solution providers.
The CRN Test Center examined hundreds of apps to find the best options for improving communication and increasing productivity. Here's Part 1 of our list.
The CRN Test Center examined hundreds of apps to find the best options for improving communication and increasing productivity. Here's Part 2 of our list.
CRN's 2012 Emerging Vendors list includes companies from every technology segment, having been established in 2006 or later, and have a strategy to leverage the channel to go to market.
Here are 10 tips from Next-Gen entrepreneurs on how to reap more of the rewards, and less of the anxiety.
CRN's Next-Gen 250 spotlights the solution providers that are positioning themselves for the next wave of technology and business model shifts, including virtualization, cloud computing, data center and mobility. Fifty leading start-up solution providers from the 2012 CRN Next-Gen 250 list.
COLUMNS
CRN's Best of Breed (BoB) conference will host experts that can advise solution providers how to transition to the cloud computing services model.
IPED numbers show that a majority of U.S. solution providers are recognizing a full 5 percent or more of their annual revenues are recurring revenues from cloud or managed services.
If the latest numbers are any indication, Lenovo will be the one to watch.
Direct market resellers are going to be an extinct species in five years.
July 2012
FEATURES
Steve Ballmer is fired up, and he is talking about a new, more competitive Microsoft. It is a Microsoft playing offense, willing to do what it takes to win as it moves to stop anyone from wresting away its crown as the world leader in bringing personal computing to the masses.
Microsoft CEO Steve Ballmer didn't hold back in an exclusive interview with CRN, saying the software giant will leave no stone unturned -- not the consumer cloud or any kind of hardware software innovation -- in its battle with Apple. Here's the full transcript.
This year, CRN honors 208 Women of the Channel, each deserving of recognition for their accomplishments at solution provider, vendor, distributor and other organizations.
COLUMNS
Microsoft's Steve Ballmer is back and his competitive juices are flowing again.
Help your vendors look forward rather than in the rear view mirror by ensuring they understand the value of your programs.
We salute women who make a difference in technology in CRN's Annual Women of the Channel issue.
Microsoft should put a plan in place to drive its tablet through solution providers in the business marketplace.
June 2012
FEATURES
Our annual ranking of the top solution providers in North America.
This year, the integrators with the highest revenue in North America are part of CRN's Solution Provider 500 list.
SP 500 Award Winners
Profiles of the companies that earned special distinction at our Solution Provider 500 Awards.
Panasonic is adopting a more market- rather than product-focused structure that it says will be a big win for channel partners.
CRN takes a look at the behind-the-scenes players that make sure solution provider partnerships thrive and business gets done.
CRN takes a look at the behind-the-scenes players that make sure solution provider partnerships thrive and business gets done.
COLUMNS
Microsoft's decision to build its own tablet and sell it directly marks a sea change in IT and an admission that the market has shifted.
Partners are left dazed and confused over Microsoft's recent Surface tablet launch.
An IPED 2012 survey finds that when cloud service is an application like Salesforce.com, new buyers are primary decision-makers.
Microsoft's surprise announcement about its Surface tablet is an attempt to gain lost ground in the mobile market.
May 2012
FEATURES
New programs and services and a hard line in the sand for EMC's direct sales force are testament to the storage giant's channel transformation.
Bill Scannell, the 27-year EMC veteran, sat down with CRN to discuss the storage giant's push to move more services business through partners.
EMC is pushing hard to embrace the channel and eliminate its intensely direct-sales culture. On the heels of EMC World, the CEO of the world's largest storage vendor sat down with CRN to tackle a variety of topics.
Check out part one of the 2012 Virtualization 100, a comprehensive list of who's who in the virtualization space.
Check out part two of the 2012 Virtualization 100, a comprehensive list of who's who in the virtualization space.
Chip maker's Trinity APUs are designed to boost graphics performance and accelerate apps on desktop, notebook and Ultrathin PCs.
COLUMNS
EMC has the opportunity to build the broadest, most technically astute and most profitable channel.
Apple's Francois Daumard has led a channel charge aimed at driving the iPad and iPhone deeper into businesses of all sizes.
By adding cloud services, solution providers could initiate transformation of their business models from Legacy to Transformative with recurring revenue.
For solution partners young and old, there is a unique opportunity to gauge the new supplier base and capitalize on the need by those vendors to build channel relationships and sales.
April 2012
FEATURES
For 22 years, CRN has awarded the Channel Champions distinction to vendors that have earned the right to be called the "creme de la creme."
Professional and managed services offerings that go wide and deep will preserve the channel, A/V integrator's leaders say.
Chris Lynch sold Vertica to HP last year and has since gone on to invest in big data start-ups. 'It's bigger than one company. It's a movement,' he says.
Nvidia has unveiled its first Kepler-based GPU, the GeForce GTX 680, targeted specifically at the enthusiast and Ultrabook markets.
COLUMNS
Intermec took a thoughtful, long-term and strategic view of the channel to build a world-class channel offering in only two-and-a-half years.
Position marketing will become more prevalent due to the loss of brand identity to the end user as a result of the cloud.
Small businesses' compliance with data protection regulations could be a gold mine for the channel.
Self-proclaimed purist Ochs explains the difference between a managed service and a cloud service citing a June 2009 Gartner publication.
March 2012
FEATURES
As part of CRN's 30th anniversary celebration, we're taking a look back to see how technology has changed and evolved since 1982.
We're recognizing 30 IT executives who have been in the industry for at least 30 years and have helped shaped the technology channel into what it is today.
We're recognizing 30 channel leaders that are still in their 30s.
Customers can deploy, transition, monitor and manage servers, storage and bandwidth using a customized portal using Pomeroy Managed Cloud Services.
Intel's Steve Dallman said that the company's new mobile strategy and Atom "Medfield" chips will ultimately yield growth opportunities for its partners.
IT manufacturers and software developers are demanding more from their channel partners. Isn't it time partners demanded more from their vendors in turn?
Our annual directory of hardware and software vendor partner programs.
Our annual directory of hardware and software vendor partner programs, broken down by technology specialty.
AMD unveiled Tuesday its new line-up of low-power Opteron 3200 server processors for energy-efficient data centers and cloud-based servers.
CRN's Cloud 100 is a who's who in the cloud market, representing the most innovative companies across five categories: cloud platforms, cloud infrastructure, cloud storage, cloud security and cloud software.
COLUMNS
The M&A madness we see today is about making an almost unimaginable business transformation to where businesses are buying IT as a service.
A successful cloud-computing strategy often involves customizing services from one or more vendors, according to Gartner. One way to do this is through a cloud services brokerage.
For 30 years, CRN has been chronicling technology and providing analysis as to why it is important to sell technology systems to customers. Happy Anniversary, CRN.
The future of computing is increasingly going to experience a bigger effort to transfer costs up the sales chain.
February 2012
FEATURES
CEO Meg Whitman has literally taken down fences at HP and brought the stability partners crave, but now comes the hard part: implementing and executing on a strategy for the long term.
Meet the executives responsible for running channels at vendors in the IT market.
We present this year's CRN Tech Elite 250, the definitive list of solution providers with deep technical expertise and premier certifications serving customers in North America.
ShoreTel partners say the acquisition of hosted UC vendor M5 is a blockbuster, but the company needs to be clear about integration plans and where M5 will fit.
AMD unveils its two-year product roadmap, targeting ultra-thin computers and low-power processors for today's cloud-powering datacenters.
COLUMNS
Reversing course for HP after former CEO Leo Apotheker turned the biggest IT channel upside-down, is a job CEO Meg Whitman is facing head-on.
Less than four months on the job, HP CEO Meg Whitman has brought stability and solid management to a company enormously important to the channel, but her job is far from over.
Solution providers are increasingly tapping ServiceKey for everything from basic warranty and maintenance services to disaster recovery, even support for cloud/hosted services environments.
Most solution providers are open to the topic of transforming their businesses, and they are approaching their vendors as a first point of contact looking for direction and education.
January 2012
FEATURES
What will next year hold for telco mergers and the mobile device boom? CRN makes its 2012 predictions for the Telecom industry.
CRN looks into its crystal ball and sees Android, hactivisim and cyber-espionage as some of the top 10 security threats in 2012.
CRN was on hand at CES 2012, bringing up-to-the-minute coverage of the biggest keynotes and providing an exclusive look at our favorite tablet PCs, ultrabooks, new cloud technologies and everything else from the show floor.
Intel has announced an alliance with Motorola as it prepares to enter the smartphone and tablet space for the first time ever. Intel's new mobile strategy doesn't signify the demise of "Wintel," though, solution providers said.
F5 Networks graduates from mere "load-balancer" to sitting at the security vendor big kids' table.
We chat with F5 Networks' John McAdam about the vendor's momentum and how he plans to keep it going.
Part one of CRN's Data Center 100, takes a look at some of the top technology vendors in the data center market.
Part two of CRN's Data Center 100, continues our look at the top technology vendors in the data center community.
Distributors look to stay relevant to solution providers as technology shifts underneath them yet again.
Eight distributors reveal their plans of action to get themselves to the cloud.
COLUMNS
Burke offers up five tips to success in 2012 culled from top solution providers, UBM Channel Research and CIOs.
Damore makes the switch to iPhone and iPad at work and demonstrates why solution providers shouldn't ignore the consumerization of IT.
For today's channel chiefs, the scrutiny and grind of it all is comparable to a presidential campaign that never ends.
The pros and cons of volume-based discounting.
December 2011
FEATURES
From processors to tablets, from PCs to laptops, this was a great year of great products. Here are what we found to be the best.
The CRN Test Center puts four digital signage products to the test.
For solution providers, the most important parts of digital signage are in the back-end integration opportunities and recurring revenue streams.
From tablets to high-end storage, here are the 2011 Tech Innovators.
Check out CRN's list of the vendors in the videoconferencing space the channel should know.
CRN takes a look at the emerging vendors in the videoconferencing space.
Salesforce and Google are screaming the word 'social,' but are solution providers and cloud providers seeing interest from their customers and are VARs seeing new opportunities from the social revolution?
AMD has officially launched its much-anticipated Opteron 6200 'Interlagos' processors, boasting a boost in server performance by up to 84 percent.
COLUMNS
Eaton's scored big in virtualization with software that provides virtual machine live migration and cluster shutdown.
Valuable solution providers are now characterized by their ability to capture customer spend in the data center, when it's hosted or when it's in the cloud.
CRN is unveiling the Channel Business Index to get a real-world view of solution provider confidence and business outlook in the channel.
VCE, the joint cloud effort of Cisco and EMC, with investments from VMware and Intel, can be described as a 'vendorgrater.'
November 2011
FEATURES
Oracle President Mark Hurd lays the foundation for Oracle's channel charge, which in part involves a Hurd-designed sales plan that has focused Oracle's partners on the hard-to-reach midmarket and SMB accounts.
Oracle Senior Vice President Judson Althoff takes off where Mark Hurd left off, using strategic skills to move Oracle in position for partner recruitment blitz.
The Oracle Database Appliance proves to be full of opportunity for VARs to deliver significant value.
Solution provider CEO thought leaders gather at the BOB conference this week to collaborate on a path that will allow them to prosper in the cloud computing era.
Check out our list of the managed service providers the channel needs to know.
Check out our list of the emerging managed service providers the channel needs to know.
Get a first look at CRN's exclusive new research study, Best Companies To Partner With, which asked solution providers to rank their must-have technology vendors.
2011 was not the year to be sitting on the sidelines. Here's our annual look at the 100 executives who came to win.
COLUMNS
Under Mark Hurd, Oracle has more indirect sales representatives covering more of the market with more success than ever before.
In the last year, we have seen widespread telco and cable company interest in recruiting network resellers and integrators to their agent programs, a good opportunity to consider.
Inaugural Best Of Breed conference brought together leading and next-gen VARs who imparted their wisdom to the channel.
Partner portals are not dead, but they should be reconstructed from the ground up with the user in mind.
October 2011
FEATURES
High quality and great return on investment--those are what puts a vendor at the top of CRN's Annual Report Card.
Many telecom service providers and cable companies have programs that cater to VARs as they are getting acquainted with the carrier space. Here's how to connect with some of the partner programs out there.
Although full convergence is not yet here, many carriers say that traditional IT and equipment VARs are quickly becoming their fastest-growing partner base.
CRN unveils its inaugural Enterprise App Awards contest and recognizes three winners that stand out.
Foxit Software makes a bold stab at stepping up to Adobe and taking a crack at stealing market share in the PDF marketplace with its most recent version of PhantomPDF.
Apple is reaching out to IT solution providers to help with the mountain of integration services that's being created by the ongoing boom in iPhone and iPad sales.
Steve Jobs is gone, but the impact he had on Apple resellers who've espoused his approach to doing business isn't going away.
Cisco details weaknesses it sees in Hewlett-Packard if it proceeds with plans to spin off its PC business.
COLUMNS
Though the late Apple CEO Steve Jobs is mourned as a technology visionary, he was actually the ultimate solution provider, with the ability to create "insanely great" products" from standard hardware and software.
VARs today should gain and invest in software expertise because they are the critical differentiators in a crowded market, with IT budgets shifting or decreasing.
Those who call this the 'Post-PC era' couldn't be further from reality.
The transformative VAR or solution provider of the future is one who can sell private, public and hybrid cloud-based solutions in addition to its standard offerings.
We are seeing some common attributes among solution providers that fall into the three categories as they relate to the move to cloud computing: vintage, progressive and transformational partners.
September 2011
FEATURES
A new class of transformative cloud providers is capitalizing on new business opportunities and reshaping the IT channel.
These companies measure growth by the thousands.
A solid foundation for building and maintaining a Fast Growth company is dependent on mastering the three 'Ps:' Planning, People and Partnering.
Our 2011 CRN Fast Growth 100 companies have managed to fight some pretty strong economic headwinds and achieve eye-popping revenue growth.
Check out our list of the vendors in the business application software space the channel needs to know.
CRN looks at the emerging vendors in the business application space that the channel needs to know.
Todd Bradley, the executive vice president of HP's Personal Systems Group, says HP's partner commitment speaks for itself even as rival Dell mounts a full court press to recruit HP partners.
In an exclusive interview with CRN, Michael Dell says HP's potential exit from the PC business makes Dell the x86 partner of choice.
September 11, 2001, changed the lives of New York VARs forever. Here are three of their stories.
Cisco will spend $75 million on new resources and systems connected to its partner-led initiative, focused on midmarket and SMB sales by solution providers.
COLUMNS
Fueled by rival Hewlett-Packard's plan to spin off its $40 billion Personal Systems Group business, Michael Dell is on an all-out channel recruitment blitz.
For the past two years, the same discussion has surfaced: Namely, which partner types, as defined by business model, will survive in the long run?
HP needs to do a much better job of communicating with the channel and its customers about what a spin-off could mean for them.
The HP decision to spin off its PC business could have proved to be healthy for HP, its competitors and the partner community.
CRN TECH: September 2011
We take you to the classroom with no-cost or low-cost ways to increase sales and profits and transform your business, all before the holiday break.
With Drobo's LED-based monitoring and set-and-forget administration, iSCSI storage has never been so easy.
Samsung is set to ship a business edition of its universal laptop docking station/monitor for Windows, while MacBook support on tap for the fall.
Intel's new $300 million Ultrabook Fund is expected to invest in hardware and software vendors the company expects will help drive its Ultrabook platform to market.
This year's listing of start-ups and upstarts, sorted by technology sector
The price-performance ratio favors the Acer AR380 F1, and flexible options, three-year warranty complete the picture
A trio of technician's tools use SuperSpeed to quicken on-site backups, migrations, updates and installs.
New SSDs released over the last few months are coming to market with SAS, SATA, and Fibre Channel interfaces in a variety of form factors for embedded, blade server, rack mount, and storage system use.
August 2011
FEATURES
This Next-Gen 250 list is a snapshot of solution providers who are zeroing in on lucrative and emerging technologies, among them cloud computing, mobility, virtualization ,unified communications, business analytics and business intelligence.
We profile three of our Next-Gen 250 solution providers who are taking advantage of the mobility revolution and offering integration and services on top of mobile platforms.
CRN's annual listing of the IT industry's upstarts and start-ups.
Mobility is changing the world and how we do business, and it's having a radical impact on the solution provider marketplace.
The CRN Test Center pits tablet vs. tablet, platform vs. platform. Where should you place your bets.
Channel-facing vendors focusing on mobility.
AMD says updated software development kit boosts development efficiency and provides access to the full functionality of A-series chips.
COLUMNS
News about Google's acquisition of Motorola Mobility plus Hewlett-Packard's killing its webOS devices, including its just-released TouchPad, has solution providers evaluationg where to place their bets in mobility.
Our research shows that partners who specialize typically drive a higher gross margin performance.
What drove the PC revolution is driving the mobile revolution: It isn't the platform but rather the applications on top of the platform.
The adoption of cloud computing, while not yet universal, is growing and a path to a new channel will require extensive work by the partner community to remain successful.
July 2011
FEATURES
VMware's Paul Maritz is making moves--and taking some calculated risks--to help VMware leverage its lofty position as the virtualization software market leader into a dominant one in cloud computing.
Our 2011 Women of the Channel, our annual who's who of female channel executives, spotlights the industry's top female talent.
Check out our list of the emerging vendors in the software infrastructure space the channel needs to know.
Check out our list of the vendors in the software infrastructure space the channel needs to know.
Today's mobility craze, the widespread adoption of services-based IT, and the desire to lock up recurring revenue streams is gaining steam for VARs to sell carrier, or business connectivity, services.
From jaw-dropping acquisitions to huge investments, telcos and cable companies are betting big on the cloud.
COLUMNS
Alliance and channel vendors of today and tomorrow indicated at IPED's Channel Masters seminar that partner recruitment is at the top of their list.
In a special report on carriers and the cloud, we take a look at the compelling proposition for solution providers to attach recurring revenue to carrier services.
CRN's list of women in the channel includes women who face the challenges of demanding careers and family responsibilities and try to balance everything; it's all so exhausting, but oh-so rewarding.
The Best of Breed concept is not the same old, but a conference with a partner-built agenda that's poised to tee up the IT business model issues and allow partners to learn from each other.
June 2011
VAR 500
There are 215 new companies on the VAR500 list this year, the most turnover the annual ranking has seen yet.
The top 50 companies in our 2011 VAR500 - the largest solution providers in North America, ranked by revenue.
It was time for some new math, so our annual VAR500 ranking got a revamped methodology to make it a timely and truly representative list.
We honor 20 VAR500 members for their own transformations.
FEATURES
Check out part one of CRN's list of 100 people in the channel that you don't know but should.
Check out part two of CRN's list of 100 people in the channel that you don't know but should.
Check out our list of the vendors in the cloud computing and SaaS markets the channel needs to know.
Check out our list of emergingg vendors in the cloud computing and SaaS markets.
Phil Soran, founder and former top executive at Compellent before its recent acquisition by Dell, offered VARs and customers a look ahead at some of the enhancements planned for the Dell Compellent Storage Center.
With twice the processors of the 6970, AMD's Radeon HD 6990 raises the bar on video graphics cards.
SNC Squared's office was destroyed by a tornado, but the Joplin, Mo.-based VAR was back up the next day ready to help clients. Here's how they did it.
COLUMNS
As we increasingly move toward desktop virtualization and cloud computing, the potential market for mobile devices and tablets is going to be huge.
The ability to sell and support new wireless applications, the resulting communications infrastructure and, ultimately, the management of these ubiquitous mobile devices offer the next growth opportunity.
Denali Advanced Integration, Redmond, Wash., becomes the first company in the history of the VAR500 to be awarded by CRN for its community service.
A look at the VAR500 solution provider list this year makes one thing crystal-clear: You need to be thinking very seriously about cloud and virtualization, and how you are going to play in this market.
CRN TECH: June 2011
Custom system builders and boutique PC makers are carving out a niche in the suddenly crowded tablet market.
The CRN Test Center looks at three new products from Toshiba, LG and Orb Audio.
Dell's Opteron-based PowerEdge C6145 server reached a peak Geekbench score of 22,607.
BitDefender delivers a one-two punch by increasing its engagement with VARs and launching its Business Solution Version 3.5 security management solution aimed at small and midsize businesses.
With disruption near or at an all-time high in the IT industry, VARs, more than ever, will need to write more software to perform a wide range of functions.
Another data center trend is increased spending, much of which will be on ramping up power.
Archiving, not backing data up, is helping lift sales of tape drives and libraries using the LTO and a couple of enterprise formats, but libraries and drives featuringother formats are slowly becoming museum pieces.
Mobility, cloud computing and the growing mobile threat landscape are creating a significant need for endpoint security solutions, and some solution providers see this attention to the endpoint chipping away at sales of traditional network security products.
May 2011
Features
Xerox CEO Ursula Burns is enjoying her coming-out party with the channel, and talking about her company as "the new Xerox."
Ursula Burns, the first female African-American CEO of a company the size of Xerox, shoots straight from the hip about the more channel-focused company, about strategy and about life.
Xerox and Cisco aim to bring more managed print, mobile print and cloud IT outsourcing services to solution providers, particularly to Cisco partners.
McAfee launched an all-in-one Cloud Security Platform, protecting Web, e-mail and identity traffic traveling to and from the cloud.
With 22-nm process, Intel 3-D processor graduates from Ivy Bridge to Ivy League.
Solution providers fear that Microsoft may mess with the formula that has made Skype an internet success story.
Check out part one of CRN's Virtualization 100, a comprehensive list of who's who in the virtualization space.
Check out part two of CRN's Virtualization 100, a comprehensive list of who's who in the virtualization space.
Check out our list of vendors in the peripherals market that VARs need to know.
Check out our list of emerging peripherals vendors making their presence known in the channel.
Columns
John Landry, who has been out in front of the biggest technology paradigm shifts for the past three decades, uses to describe the three immutable forces of nature that are reshaping every nook and cranny of the technology business.
Even before Ursula Burns stepped into the Xerox CEO role, she had big shoes to fill.
Can distribution find a role in the world of cloud computing where most of the world buys computing power much like it does electrical power?
I promised to share more data as the year progressed around solution provider profiles, profitability and other trends. Then we'll move to some business model statistics with a goal of offering you a quick benchmark of your business against the U.S. average solution provider
April 2011
Features
Solution providers ranked their vendors across 26 product categories in CRN's annual Channel Champions survey. Here's who came out on top.
The Test Center loves many things about Android, but the platform's security isn't one of them. For enterprises, that means the potential risks to corporate data is just too high.
Samsung's rise to within four percent of Intel in the semiconductor market is reflective of growth in the memory segment, according to IHS iSuppli.
As recent moves by Cisco and Polycom attest, the next generation of video VARs will focus on software, content management, and the blurring business-consumer boundaries.
Columns
The political power plays vendors are engaged in today are dangerous for solution providers and the channel as a whole.
There's a new component in the matter of compensation: the added complication of vendor products brought to market by service providers.
The business model in the next five years will be about specializing, and drilling down into verticals, call them 'microverticals,' will be key.
The trouble with the cloud is there's no one to call when you have an issue, and that's an opportunity for solution providers.
March 2011
Features
Check out our list of the emerging hardware infrastructure vendors making their presence known in the channel.
Check out our list of hardware infrastructure vendors that the channel needs to know.
In this year's Partner Program Guide, we see 5-Star vendors ratchet up services and resources they provide to VAR partners.
Here, we spotlight the Top 100 cloud computing vendors for 2011 across five categories: cloud platforms, cloud infrastructure, cloud security, cloud storage and cloud software and apps.
Of all the things we learned about Leo Apotheker, the most important are these: He is firmly committed to partners, and he has a compelling plan to unite HP and return it to its roots as a technology innovator
Columns
Make no mistake about it: Apotheker is channel strong. He has hit the ground running, quickly getting his arms around the value of the channel for HP.
So, I've spoken with two sets of managed service providers: One school believes public cloud service providers compete with managed service providers. The other school believes public cloud service providers offer additional products that can be repackaged and sold to supplement their managed offerings. Which is correct?
I was at one of the many partner conferences being held this winter and I heard a story that is unfortunately all too familiar and illustrates the implications of bad field behavior.
Leo Apotheker, HP's CEO of just a few months stepped into the spotlight recently in an interview with CRN and in a separate presentation to investors where he began to set forth what the future of HP will look like.
CRN TECH: March 2011
The CRN Test Center tracks 10 emerging and growing technologies that can bring big opportunity to channel partners.
Intel and AMD bet big on revolutionary new architectures that combine CPU and GPU capabilities on a single piece of silicon.
The CRN Test Center gets under the hood of three products from HyperOffice, HP and Dell that pack both value and high performance.
The CRN Test Center evaluates a VDI solution from Hewlett-Packard.
The data center trend toward consolidation and virtualization is creating a spate of new tools designed to handle asset management and power consumption.
Seagate's Free Agent GoFlex Desk provides 3 TB of desktop storage, along with a backup and recover solution that the CRN Test Center evaluates and reviews.
The ViewSonic PJD7383i projector combines nice performance with interactive features to make a compelling solution.
The pure-Android platform amounts to a clean slate for solution providers.
Three-pound tablet offers solution providers a highly capable input device.
High-performance and mission-critical applications have customers increasing their use of SSD and Flash memory module technologies.
Mobile virtualization could help IT departments deal with one of their most persistent challenges: Allowing workers to use their personal mobile devices in business scenarios.
Cloud computing is sticky and that stickiness is helping VARs and solution providers retain customers and become a true trusted adviser.
February 2011
FEATURES
Our first annual Tech Elite 250 list features solution providers characterized by their unique solutions methodology, the highest-tier, multiple vendor certifications, and a heavy services and software IQ.
Panasonic's all-in-one KX-MB2061 office machine adds voice mail and a cordless telephone to the usual mix of printing, scanning, copying and faxing capabilities, all for a list price of $249.
So what's woman-owned, Louisiana-based computer services company Barrister Global Services Network's secret to surviving a stock delisting, 1,300-mile move and a natural disaster -- and still going strong?
Check out our list of the emerging UC and VoIP vendors making their presence known in the channel.
Check out our list of 25 vendors in the UC and VoIP space that the channel needs to know.
These 200-plus executives are the who's who of channel management--heading up the partner programs solution providers depend on to run their business
These 200-plus executives are the who's who of channel management--heading up the partner programs solution providers depend on to run their business.
Cisco Systems CEO John Chambers sits down with CRN for a wide-ranging conversation touching on the growth of the Cisco channel, why he believes Cisco is a compelling bet for partners and what role the network, collaboration, video and other Cisco hallmarks will play in the businesses of the future.
A few weeks ahead of Cisco's annual partner conference, Chairman and CEO John Chambers outlines the path to success for Cisco solution providers, which runs straight through the cloud.
COLUMNS
A new breed of super-cool solution providers is breaking away from the channel pack with best-in-class, high-business-impact solutions for customers. We honor them here in our first annual CRN Tech Elite list.
Cisco, IBM, EMC, Verizon-Terremark, SHI: Who are your server and storage vendors today?
The cloud change is real, and for solution providers there are some things you need to know if you are going to be able to run a successful company for the long term.
Organizations need to make investments in new skills. This was the reasoning behind our newest list, the Tech Elite 250.
January 2011
FEATURES
Check out CRN's snapshot of the leading security VARs in the market today.
Looking to jump into the security market? Check out CRN's list of the top technology vendors you should be rubbing elbows with.
The 2011 State of the Market survey, conducted in November, looks at business issues and trends in the first half of 2010 and business projections for 2011.
Check out part one of CRN's Data Center 100 a listing of some of the top players in the space that solution providers should get to know.
Check out part two of CRN's Data Center 100, a listing of some of the top players in the space that solution providers should get to know.
COLUMNS
In 10 years, Joe Tucci has taken EMC from no-show channel vendor to an award-winning channel vendor.
New customer needs support hybrid computing environments that mix customer on-premise data centers, hosting and data center virtualization.
Some IT departments are resisting the tablet, but the fact is as more of us buy personal iPads, we are going to pressure CIOs to make them functional as a work device.
We now have a digital edition of CRN in the form of an iPad app and plan to do even more around iPhone/iPad apps this year.
Printer-friendly version
Email this CRN article